The Grey Lady Music Lounge, Sunday 15th May 2016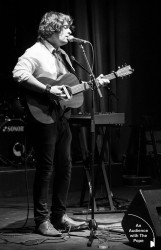 click to enlarge
Whether turning his hand to the studio or the stage, it can be hard to pin Jono Harrison down. It is fair to say that he lives and breathes music in a way that borders on obsession.
Formerly a session musician playing in various bands around London, a mystifying back injury forced him to put away his guitar for nearly two years. He taught himself recording techniques, and delved into albums such as Jeff Buckley's 'Grace' and Nick Drake's harrowing 'Pink Moon'. Upon recovering, he set about writing own song ideas and recording demos, playing dingy bars around London and Brighton to whoever would listen. Six years on, he signed a deal with boutique label 'Which Wolf Wins' and released his eponymous debut album.
Jono subsequently toured the US and and the UK. He co-founded a 28 piece orchestra and joined 80s legends Cutting Crew on keyboard duties, all the while producing other acts and quietly writing in his home studio. As he gathers up influences from wherever he lays his hat, including electronica, trip-hop or post-punk - Jono has been developing a wider, beat-driven sound, soaked in warm synthesisers and chiming guitars, moving on from his former acoustic leanings but still embracing his love of heart-warming melodies.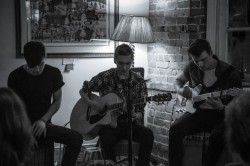 click to enlarge
Hugh Kemp is a singer/songwriter with both acoustic rock and blues influences, who began playing guitar from a young age. His love for music led to a strong appetite for songwriting. He eventually began recording demos, alongside fellow local musicians, whilst developing his sound in the process. He is currently producing his debut EP.
Having just completed his study of music performance at college, he has taken a year out to complete his current music projects. He is planning on gigging regularly, as well as recording new music, before heading to university to continue his studies.
His main influences include John Mayer, Eric Clapton and Ben Howard.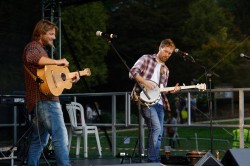 click to enlarge
The origin of the name 'Riverhead', according to Wikipedia, may lie in the Saxon word 'rither' meaning hill or deriving from the word meaning 'cattle landing place'. Riverhead was an early settlement, part of the Codsheath Hundred. The settlement grew in size during Saxon times as traffic on the pilgrim routes between Canterbury and Winchester increased. The prosperity of the village during Georgian times is indicated by the high proportion of households that had to pay Hearth Tax on their properties, and although the village was of modest size, it was surrounded by several major country estates such as Chipstead Place, Bradbourne and Montreal. Riverhead is also a folksy trio from Tunbridge Wells.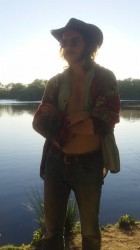 click to enlarge
Chris Parris is the lead singer and front man of local band Sarah Tonin, who have established themselves as one of the most original, psychedelic rock bands of the local scene. Being the main songwriter for the band, Chris has a large back catalogue to choose from and has been working on new material over the last few months for this solo project.
There are always too many influences to name but you may catch glimpses of Roy Harper, Nick Drake, Paul Simon and Neil Young in there somewhere.
Sarah Tonin now have their debut album 'Spinning Chaos' on sale which will be available tonight. They have several shows over the summer which you can find out about on their Facebook page.