Hugh Kemp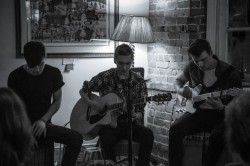 click to enlarge
Hugh Kemp is a singer/songwriter with both acoustic rock and blues influences, who began playing guitar from a young age. His love for music led to a strong appetite for songwriting. He eventually began recording demos, alongside fellow local musicians, whilst developing his sound in the process. He is currently producing his debut EP.
Having just completed his study of music performance at college, he has taken a year out to complete his current music projects. He is planning on gigging regularly, as well as recording new music, before heading to university to continue his studies.
His main influences include John Mayer, Eric Clapton and Ben Howard.
Last played:
The Grey Lady Music Lounge, Sunday 15th May 2016
Chris Parris, Riverhead, Hugh Kemp, Jono Harrison