Chris Parris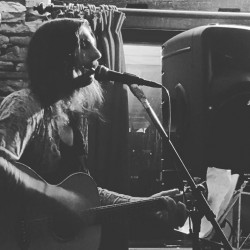 click to enlarge
Chris Parris is the lead singer and guitarist of the band Sarah Tonin, who have established themselves as one of the most original psychedelic rock bands of the music scene. Being the main songwriter for the band, Chris has a large back catalogue to choose from but tonight will be singing predominantly new material which he's been working on over the last couple of months for this solo project.
Music for Parris has usually come from a place of rock, folk, country and blues. These are sounds that can fuel the psychedelic ethos and style of Sarah Tonin and this is no exception when composing music more suitable for the acoustic guitar. There are always too many influences to name but you may catch glimpses of Roy Harper, Nick Drake, Bob Dylan, Neil Young and The Incredible String Band in there somewhere.
Sarah Tonin are on a break presently from performing after the sudden tragic loss of dear friend and bassist David Saunders at the end of 2018, he will always be remembered.
After years of physical and mental health problems mainly due to diet and now finally on a road to recovery thanks to his family, Parris is keeping the spirit alive and is embarking on a soul searching expedition of song writing and inner explorations. Let's see how far out the boat can be pushed! Sarah Tonin's debut album 'Spinning Chaos' is on sale tonight.
http://www.reverbnation.com/sarahtonin
Last played:
The Grey Lady Music Lounge, Sunday 15th December 2019
Ashley Evans, Chris Parris, Andy Twyman