The Grey Lady Music Lounge, Wednesday 13th April 2016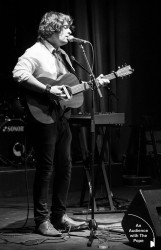 click to enlarge
Whether turning his hand to the studio or the stage, it can be hard to pin Jono Harrison down. It is fair to say that he lives and breathes music in a way that borders on obsession.
Formerly a session musician playing in various bands around London, a mystifying back injury forced him to put away his guitar for nearly two years. He taught himself recording techniques, and delved into albums such as Jeff Buckley's 'Grace' and Nick Drake's harrowing 'Pink Moon'. Upon recovering, he set about writing own song ideas and recording demos, playing dingy bars around London and Brighton to whoever would listen. Six years on, he signed a deal with boutique label 'Which Wolf Wins' and released his eponymous debut album.
Jono subsequently toured the US and and the UK. He co-founded a 28 piece orchestra and joined 80s legends Cutting Crew on keyboard duties, all the while producing other acts and quietly writing in his home studio. As he gathers up influences from wherever he lays his hat, including electronica, trip-hop or post-punk - Jono has been developing a wider, beat-driven sound, soaked in warm synthesisers and chiming guitars, moving on from his former acoustic leanings but still embracing his love of heart-warming melodies.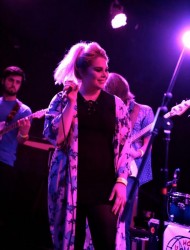 click to enlarge
Rosie Pennie is a 20 year old singer/songwriter. Raised in a musical family she experienced an eclectic melange of musical influences, including jazz, soul and rock, which is now reflected in her songwriting.
Rosie has a unique voice, and her love of a good melody sets her apart from many of her contemporaries.
Fronting her dynamic band she has headlined many iconic venues such as the Hard Rock Café, The Pheasantry and most recently the O2 Academy Islington.
Her distinctive soulful voice and passionate performance serves to define her as an artist who demands to be heard.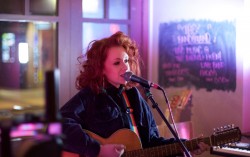 click to enlarge
Angel Octavia Blue is a 15 year old very individual singer/ songwriter/ actress from Sevenoaks.
Angel currently attends the BRIT School of performing arts in Croydon, London where she is studying music, singing, art and theatre.
Having achieved a double distinction star in her level 2 Musical Theatre Btec at the age of 14, Angel has been writing songs and performing on stage in plays and musicals since she was 3.
Angel is currently writing and recording her first EP of original compositions and this will be her first full length solo performance of these.
Performing on stage mostly with acoustic guitar and sometimes piano, her main influences are:
David Sylvian (Japan), John Lennon, Duran Duran and David Bowie.
Angel most definitely has her own very unique and distinctive style.