Rosie Pennie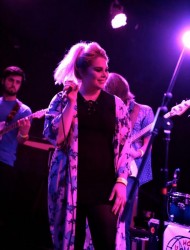 click to enlarge
Rosie Pennie is a 20 year old singer/songwriter. Raised in a musical family she experienced an eclectic melange of musical influences, including jazz, soul and rock, which is now reflected in her songwriting.
Rosie has a unique voice, and her love of a good melody sets her apart from many of her contemporaries.
Fronting her dynamic band she has headlined many iconic venues such as the Hard Rock Café, The Pheasantry and most recently the O2 Academy Islington.
Her distinctive soulful voice and passionate performance serves to define her as an artist who demands to be heard.
Rosie Pennie on Twitter (@RosiePennie)
Last played:
The Grey Lady Music Lounge, Sunday 4th March 2018
Peter Taylor, Niamh McSmith, Rosie Pennie