Angel Octavia Blue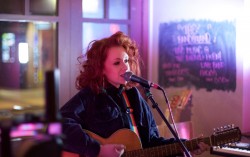 click to enlarge
Angel Octavia Blue is a 15 year old very individual singer/ songwriter/ actress from Sevenoaks.
Angel currently attends the BRIT School of performing arts in Croydon, London where she is studying music, singing, art and theatre.
Having achieved a double distinction star in her level 2 Musical Theatre Btec at the age of 14, Angel has been writing songs and performing on stage in plays and musicals since she was 3.
Angel is currently writing and recording her first EP of original compositions and this will be her first full length solo performance of these.
Performing on stage mostly with acoustic guitar and sometimes piano, her main influences are:
David Sylvian (Japan), John Lennon, Duran Duran and David Bowie.
Angel most definitely has her own very unique and distinctive style.
Last played:
The Grey Lady Music Lounge, Wednesday 13th April 2016
Angel Octavia Blue, The Rosie Pennie Band, Jono Harrison