The Grey Lady Music Lounge, Tuesday 14th April 2015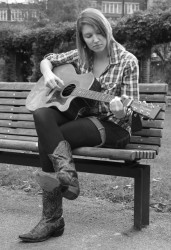 click to enlarge
Kathryn Anderson is a 25 year old country singer-songwriter based in South-East England, taking classic country music and blending it with catchy melodies and stories from her life to create a unique sound.
After getting a guitar as a post-exam present, Kathryn discovered country music and started writing about her life. In the years since then, she has played shows all over her home county and neighbouring counties, and has had music played on several BBC regional radio stations around the UK.
Kathryn goes to Nashville a couple of times a year to write music and meet like-minded people to further her career. She has performed at open mic nights and small venues in Nashville, and cites playing at a fundraiser for a crew member of the TV show 'Nashville' as a career highlight.
Following the release of a six-track EP at the beginning of 2014, Kathryn is preparing to release her first full-length album, Black Sheep, which comes out in the UK and worldwide on 14th February 2016. Links to social media and video content, including a brand new music video, can be found on her website.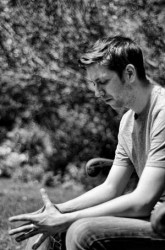 click to enlarge
Finding his musical roots later in life, and now 27, Alex Thomas is a singer/songwriter old before his years. Giving off tones of Tom Petty mixed with the influences of Alanis Morissette and Michael Stipe, Alex writes honestly without an edit. After releasing two EP's in recent years, and national radio airplay, he will soon be releasing a mini album of new raw songs once again highlighting his songwriting ability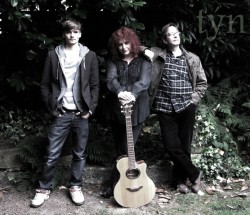 click to enlarge
týn has been performing regularly at The Grey Lady since 2008 and before that with local band 'the magd'. Originally a duo, Tracey (vocals and guitar) and Anthony (keyboards) were joined by Mark on percussion in 2010.
Their music is mainly acoustic, sometimes spare and stripped out and sometimes intricately arranged but always personal and intimate and performed with passion. Between them, týn has a few decades worth of classical and modern influences; which have left their mark on what you hear now. They have covered songs by Guns N' Roses, Eva Cassidy, Damien Rice, Cole Porter and Muse, to name a few…
One of Tracey and Anthony's recent projects was writing, recording and producing a contemporary musical about Mary Magdalene. 'Rest In You' which was performed at Trinity Theatre, Tunbridge Wells in April 2011. A CD of the songs is available and the script and score will be published later in the year.
týn continues to work on their albums of original songs and covers and hopes you will continue to support their musical projects.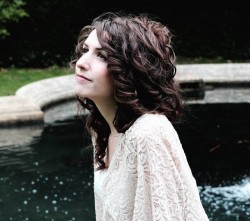 click to enlarge
Emotive songstress, Jennifer Lee Ridley passionately uses influences of a Romantic folk nature to create poignant and touching music. She has studied in depth the poetic nature of song and has a strong affinity with writers such as William Shakespeare, John Keats and William Blake. More recently she has combined these influences with her own song-writing to create more modern fusions whilst carefully retaining the purity of the lyrical content. Her dark warm vocals combined with her individual folk sound mirrors the poetic lyrics which explore the many facets of emotions.
This has had a profound effect on her own songs which she continues to develop and enhance through working with other composers, musicians and writers locally and in London. She feels strongly that collaborating is an important part of growing and building an understanding of the nature and the impact of poetry and prose on music.

She is currently working on and arranging an album which she is hopes to bring out in 2014.