Kathryn Anderson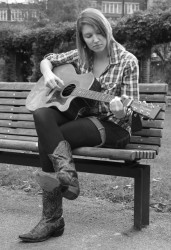 click to enlarge
Kathryn Anderson is a 25 year old country singer-songwriter based in South-East England, taking classic country music and blending it with catchy melodies and stories from her life to create a unique sound.
After getting a guitar as a post-exam present, Kathryn discovered country music and started writing about her life. In the years since then, she has played shows all over her home county and neighbouring counties, and has had music played on several BBC regional radio stations around the UK.
Kathryn goes to Nashville a couple of times a year to write music and meet like-minded people to further her career. She has performed at open mic nights and small venues in Nashville, and cites playing at a fundraiser for a crew member of the TV show 'Nashville' as a career highlight.
Following the release of a six-track EP at the beginning of 2014, Kathryn is preparing to release her first full-length album, Black Sheep, which comes out in the UK and worldwide on 14th February 2016. Links to social media and video content, including a brand new music video, can be found on her website.
http://www.kathrynandersonmusic.com/
Kathryn Anderson on Twitter (@KathrynAnderson)
Last played:
The Grey Lady Music Lounge, Wednesday 8th March 2017
Jack Leon Mackey, Alice Rose, Simon Crabb, Kathryn Anderson