TYN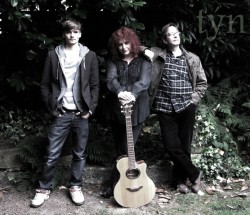 click to enlarge
týn has been performing regularly at The Grey Lady since 2008 and before that with local band 'the magd'. Originally a duo, Tracey (vocals and guitar) and Anthony (keyboards) were joined by Mark on percussion in 2010.
Their music is mainly acoustic, sometimes spare and stripped out and sometimes intricately arranged but always personal and intimate and performed with passion. Between them, týn has a few decades worth of classical and modern influences; which have left their mark on what you hear now. They have covered songs by Guns N' Roses, Eva Cassidy, Damien Rice, Cole Porter and Muse, to name a few…
One of Tracey and Anthony's recent projects was writing, recording and producing a contemporary musical about Mary Magdalene. 'Rest In You' which was performed at Trinity Theatre, Tunbridge Wells in April 2011. A CD of the songs is available and the script and score will be published later in the year.
týn continues to work on their albums of original songs and covers and hopes you will continue to support their musical projects.
Last played:
The Grey Lady Music Lounge, Wednesday 23rd November 2016
Georgia Bickerton, Steve Hewitt, TYN, Bea Everett