The Grey Lady Music Lounge, Sunday 12th August 2012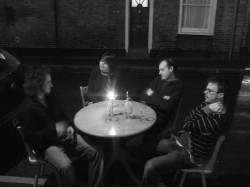 click to enlarge
Laveer, (vrb) - to beat against the wind.
"That's what the dictionary says it means", explains the band, "it's like we see ourselves as sailors, sailing into the wind and riding the waves against all adversity.... that or something like that. Would you like another biscuit?"
Laveer are four tea-spilling musicians who favour acoustic instruments and like playing songs together. Their music has been called, among other things, compelling and melodic. They like to play live and have recorded one album called "Fingermouth" (available cdbaby, amazon, itunes etc). They are working on some new recordings which will be available later in the year.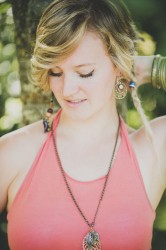 click to enlarge
In October 2014, Phoebe was commissioned to write the only piece of music in BAFTA and BIFA winning movie 'Kajaki. The True Story' ('Kilo Two Bravo' – US release). Her single 'All Of My Life' is the theme to the modern British War Film and has reached over 130,000 plays on both Spotify and YouTube.
In September 2017 Phoebe released a piano-vocal album of her own music, show casing her talent as a performer and diverse songwriter. Phoebe's new single 'Promises' is set for release in March 2018 (prod. by Tim Bazell, Heart of Gold Studios). Phoebe's talent for diverse songwriting has led her to work with a number of producers and artists across a range of genres.
On the performance side, as both a solo artist and with her band, Phoebe has played at a number of prestigious venues including sold out Jazz Club @ Pizza Express Dean St and Ronnie Scott's. She has also played the festival circuit, including Glastonbury, Secret Garden Party, and Bestival. Phoebe performed at the private 70th anniversary party for BBC Radio 4 Women's Hour, and has had numerous appearances and support from BBC Radio Kent.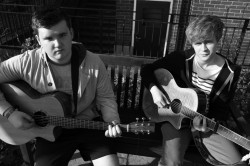 click to enlarge
Blinded Bird are a Kent based band performing upbeat acoustic tracks. Taking influence by from a wide variety of acts from Bob Dylan to Beirut, and Nu Folk acts such as Mumford and Sons and The Lumineers, they found their sound with two acoustic guitars. Blinded Bird have been performing as a band since Winter 2011 and are always looking to advance their music by any means possible. After releasing their debut EP "Through The Fields" in late 2012 the originally two piece band was joined by our third member Lewis Pentecost standing in as a multi-instrumentalist to expand their live sound further.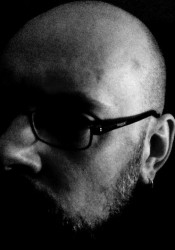 click to enlarge
Alternative rock act Nod began in 1993, as a solo acoustic show by Peter Owden in East Grinstead, West Sussex performing in bohemian coffee shops in Brighton and London. Transforming the set to encompass a full live band resulted in the first mini-album "Luck Point" (1997) via their Dirty Ballerina record label, followed by performances as part of the Sounds of Brighton event of multiple Brighton venues in 1998, which spread the word of Nod successfully.
A live EP followed and then, in the year 2000, Nod's dark and thoughtful style was stamped upon the release of "God Rot Your Tongue". A collection of introspective songs with lyrics described by Classic Rock magazine's four star review as "satisfyingly voyeuristic".
Peter embarked on various musical and film making projects throughout the following decade. Nod returns to the stage and the studio this summer with the forthcoming album "The Abortive Gulf" via Kneecapped Records, supported by live shows and acoustic sets with Tunbridge Wells' well known guitarist Joe De Kwant Stoner.