Nod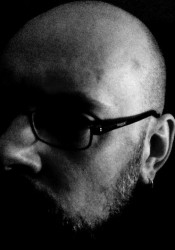 click to enlarge
Alternative rock act Nod began in 1993, as a solo acoustic show by Peter Owden in East Grinstead, West Sussex performing in bohemian coffee shops in Brighton and London. Transforming the set to encompass a full live band resulted in the first mini-album "Luck Point" (1997) via their Dirty Ballerina record label, followed by performances as part of the Sounds of Brighton event of multiple Brighton venues in 1998, which spread the word of Nod successfully.
A live EP followed and then, in the year 2000, Nod's dark and thoughtful style was stamped upon the release of "God Rot Your Tongue". A collection of introspective songs with lyrics described by Classic Rock magazine's four star review as "satisfyingly voyeuristic".
Peter embarked on various musical and film making projects throughout the following decade. Nod returns to the stage and the studio this summer with the forthcoming album "The Abortive Gulf" via Kneecapped Records, supported by live shows and acoustic sets with Tunbridge Wells' well known guitarist Joe De Kwant Stoner.
Last played:
The Grey Lady Music Lounge, Sunday 12th August 2012
Nod, Blinded Bird, Phoebe Katis, Laveer