Laveer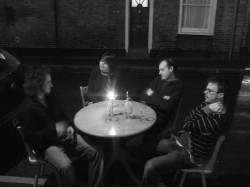 click to enlarge
Laveer, (vrb) - to beat against the wind.
"That's what the dictionary says it means", explains the band, "it's like we see ourselves as sailors, sailing into the wind and riding the waves against all adversity.... that or something like that. Would you like another biscuit?"
Laveer are four tea-spilling musicians who favour acoustic instruments and like playing songs together. Their music has been called, among other things, compelling and melodic. They like to play live and have recorded one album called "Fingermouth" (available cdbaby, amazon, itunes etc). They are working on some new recordings which will be available later in the year.
Last played:
The Grey Lady Music Lounge, Sunday 2nd June 2013
Artist (TBC), Seb Pettitt, Luke Bacon, Laveer