The Grey Lady Music Lounge, Sunday 13th May 2012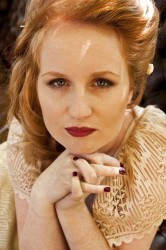 click to enlarge
Described by Neil Sedaka as "Beautiful", Sam de la Haye is a London based singer/songwriter whose blues-inspired, soaring vocals and intelligent lyrics, combined with neat piano-driven tunes, have gained the attention of heavyweight musicians like guitarist Steve Cropper. Her ability to not only evoke emotive response, but also thoroughly entertain, has wooed crowds on tours of America and Ireland as easily as it has in local London venues.
Sam's distinctive sound budded during her childhood in Jersey C.I., flourished into her BA in contemporary music, and blossomed into her two year stint at the prestigious BRIT school. This fertile ground has produced an artist whose impressive technical proficiency is matched and balanced by the organic nature of her talent.
Late last year, Ray Davies asked Sam to perform the role of singing narrator in a children's play commissioned by Grazdale Arts for The Great British Festival. Working closely with Ray until the performance at The South Bank inspired him to select her to support Guillemots for Royal Festival Hall Meltdown Festival. De la Haye also appeared as a special guest along side Eddie Reader and Robyn Hitchcock for the Kast Off Kinks performance at the Purcell Room. Sam is an innate musician. Her work as a piano/vocalist for some of London's top hotels includes the newly opened Savoy and the Dorchester Hotel.
Fresh off the press, her album takes in a multitude of influences ranging from the Fleetwood Mac blues era to Kate Bush, and on to more contemporary artists like Eva Cassidy, Adele and Tori Amos.
Influences: Carol King, Tori Amos, Kings of Leon, Snow Patrol, Kate Bush, Beverly Craven, Kate Walsh, Imogen Heap,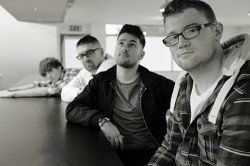 click to enlarge
37 pizzas later and the band was complete…
Dorey the Wise was formed early 2010 by Aidan Tigwell and Chris Georghiou. The acoustic duo, brought together by a love of music, and food, set out creating songs, songs to woo ladies and melt hearts of stone… They failed on both accounts, but convinced people they were charming and handsome, with their cheeky banter.
The band then doubled in size, like dough in a warm oven, with the arrival of Mason Holmes and Elliot Lampitt in 2011. Mason turned on his bass face and Elliot added much needed beats (and timing) to the acoustic foundations already created.
Dorey The Wise are currently partaking in Surface Festival where they can be voted for on their website.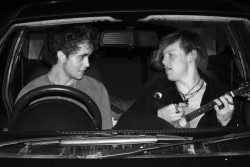 click to enlarge
Ruari and Jake met at a performing arts school when Ruari was 11 and Jake, 12 and initially connected due to their taste in music, personalities and their natural ability to work well on stage together. They started performing together in local theatres in productions such as 'Dracula' playing Dracula and his servant Genghis, 'A Midsummer Night's Dream' as Demitrius and Lysander and many more. Later they went on to performing in open theatres around the west end including The Royal Albert Hall, Drury Lane Theatre and the London palladium in performances such as Tommy the musical and Bugsy Malone.
After realising they performed well together they started playing covers at a young age from legendary bands such as The Beatles, The Who, Bon Jovi, and songs from musicals such as Les Miserables, 'I Dreamed a Dream' and the musical 'Rent'. At the ages of 13 and 14 the boys started writing their own material and luckily one of the boy's dads had a recording studio and they started to put these tracks down. As they gained more experience their song writing and creativity matured resulting in the young lads writing orchestral pieces to their music and incorporating more dynamic sounds such as synths, new guitar sounds/dynamics and percussion instruments.
Even though the Rock/Pop duo have stopped acting together (for the mean time), they are currently writing a musical which they hope to get to the west end. The plot is still confidential; however the music they have written will be modern and resemble greatly the roots of their influences which include: The Beatles, Big and Rich, Journey, The Beachboys, McFly, Nickleback, The Script, Abba and the list goes on.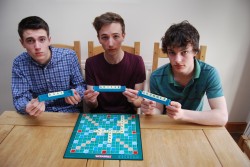 click to enlarge
From first beginnings in Crowborough, The Shutdown was formed by three mates keen to develop themselves as musicians. Starting in their early teens they began to write, cover and enjoy playing music together. The band is composed of Jed Long (Lead Vocals and Guitar), Danny Jackson (Bass Guitar and Backing Vocals) and Stephen Pugh (Percussion). After signing to Alati Records, they found success with their first single "Lights On", which was distributed internationally on iTunes, Spotify and many other online retailers. Since then they have taken on new influences from bands such as Bombay Bicycle Club, The Maccabees and Two Door Cinema Club. Bringing with it a new direction, their most recent EP "Rise" shows off a variety of tracks with a new found style that they translate onto the acoustic stage.