Dorey The Wise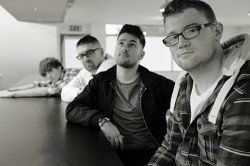 click to enlarge
37 pizzas later and the band was complete…
Dorey the Wise was formed early 2010 by Aidan Tigwell and Chris Georghiou. The acoustic duo, brought together by a love of music, and food, set out creating songs, songs to woo ladies and melt hearts of stone… They failed on both accounts, but convinced people they were charming and handsome, with their cheeky banter.
The band then doubled in size, like dough in a warm oven, with the arrival of Mason Holmes and Elliot Lampitt in 2011. Mason turned on his bass face and Elliot added much needed beats (and timing) to the acoustic foundations already created.
Dorey The Wise are currently partaking in Surface Festival where they can be voted for on their website.
Last played:
The Grey Lady Music Lounge, Sunday 13th May 2012
The Shutdown, SecureVision, Dorey The Wise, Sam De La Haye