Sam De La Haye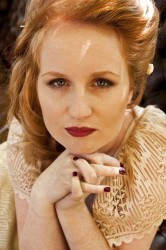 click to enlarge
Described by Neil Sedaka as "Beautiful", Sam de la Haye is a London based singer/songwriter whose blues-inspired, soaring vocals and intelligent lyrics, combined with neat piano-driven tunes, have gained the attention of heavyweight musicians like guitarist Steve Cropper. Her ability to not only evoke emotive response, but also thoroughly entertain, has wooed crowds on tours of America and Ireland as easily as it has in local London venues.
Sam's distinctive sound budded during her childhood in Jersey C.I., flourished into her BA in contemporary music, and blossomed into her two year stint at the prestigious BRIT school. This fertile ground has produced an artist whose impressive technical proficiency is matched and balanced by the organic nature of her talent.
Late last year, Ray Davies asked Sam to perform the role of singing narrator in a children's play commissioned by Grazdale Arts for The Great British Festival. Working closely with Ray until the performance at The South Bank inspired him to select her to support Guillemots for Royal Festival Hall Meltdown Festival. De la Haye also appeared as a special guest along side Eddie Reader and Robyn Hitchcock for the Kast Off Kinks performance at the Purcell Room. Sam is an innate musician. Her work as a piano/vocalist for some of London's top hotels includes the newly opened Savoy and the Dorchester Hotel.
Fresh off the press, her album takes in a multitude of influences ranging from the Fleetwood Mac blues era to Kate Bush, and on to more contemporary artists like Eva Cassidy, Adele and Tori Amos.
Influences: Carol King, Tori Amos, Kings of Leon, Snow Patrol, Kate Bush, Beverly Craven, Kate Walsh, Imogen Heap,
Last played:
The Grey Lady Music Lounge, Sunday 13th May 2012
The Shutdown, SecureVision, Dorey The Wise, Sam De La Haye