SecureVision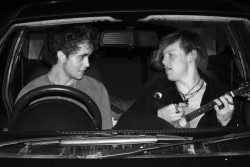 click to enlarge
Ruari and Jake met at a performing arts school when Ruari was 11 and Jake, 12 and initially connected due to their taste in music, personalities and their natural ability to work well on stage together. They started performing together in local theatres in productions such as 'Dracula' playing Dracula and his servant Genghis, 'A Midsummer Night's Dream' as Demitrius and Lysander and many more. Later they went on to performing in open theatres around the west end including The Royal Albert Hall, Drury Lane Theatre and the London palladium in performances such as Tommy the musical and Bugsy Malone.
After realising they performed well together they started playing covers at a young age from legendary bands such as The Beatles, The Who, Bon Jovi, and songs from musicals such as Les Miserables, 'I Dreamed a Dream' and the musical 'Rent'. At the ages of 13 and 14 the boys started writing their own material and luckily one of the boy's dads had a recording studio and they started to put these tracks down. As they gained more experience their song writing and creativity matured resulting in the young lads writing orchestral pieces to their music and incorporating more dynamic sounds such as synths, new guitar sounds/dynamics and percussion instruments.
Even though the Rock/Pop duo have stopped acting together (for the mean time), they are currently writing a musical which they hope to get to the west end. The plot is still confidential; however the music they have written will be modern and resemble greatly the roots of their influences which include: The Beatles, Big and Rich, Journey, The Beachboys, McFly, Nickleback, The Script, Abba and the list goes on.
Last played:
The Grey Lady Music Lounge, Sunday 13th May 2012
The Shutdown, SecureVision, Dorey The Wise, Sam De La Haye