The Grey Lady Music Lounge, Wednesday 29th June 2011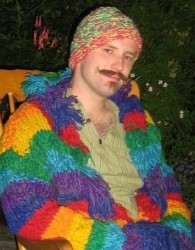 click to enlarge
Ben moved down South from Manchester two years ago, and has been writing and performing his own music for seven years. He is best known for writing high octane musical theatre having won the PMA writer's award in 2002 and being crown European Gay Playwright of the year 2005. His most recent production of "The Case of the Blue Oyster Gang" was on in New York at Christmas and was recommended as a must see by the NY British Culture Examiner. Ben has been described as "Prodigiously talented" by the Scotsman, and has won five star reviews in the Times, Guardian and Telegraph. He branched out into writing stand alone music when he became the producer of Manchester's successful alternative "Cabaret of Ida Bucket" in 2005, and later becoming a transfering his acts to Bristol's "Invisible Circus". He can still be heard performing as a Jungle MC under the name Wilberforce Brown but is now hoping to spread his more acoustic music around the South. He lists his influences as They Might be Giants, Richard Carpenter and Stephen Swartz.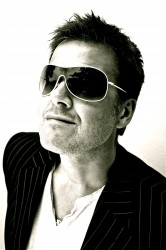 click to enlarge
Liverpool born songwriter Mark Chase was the leader of the notorious 90's band World of Leather, who released 2 albums and 7 EPs through Sony. They toured extensively in the UK and Europe and sold respectably in Japan & Scandinavia, whilst skilfully avoiding the UK charts.
Prior to this, Mark had been a successful session musician & session singer, working with numerous artists including Belinda Carlisle, T'Pau, Taylor Dayne and Julian Lennon. He also worked as a commercial session vocalist, recording 'sound-alike' tracks for TV shows and adverts.
After seeing Beck perform a solo gig a few years ago, Mark altered his approach to music, favouring the 'stripped down' acoustic style of Neil Young, Damien Rice and Rickie Lee Jones. He continues to perform live regularly, both with his band and as a solo performer. Four of his songs have been used in movie soundtracks.
In tandem with his music career, Mark has also been a TV Presenter on a variety of shows, including; The Survivors Guide, Sextalk (both C4), Breakfast Time, Going Live! (BBC1), Wideangle, Country File (ITV) and Toyah & Chase (VH-1).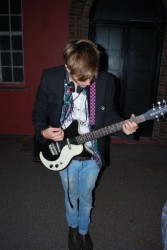 click to enlarge
Will Atkins has been writing music since 2004 and has been playing as These Abruzzo Wolves since 2007, with Cam Thomas joining in mid 2010 on drums, guitar and backing vocals but having to put the band on hiatus due to prior commitments at the end of the year. Will continues to play solo under the same name, in a range of different venues across Kent, East Sussex and London. He has managed to write and record over an album's worth of songs and has brought out a minor release of 11 songs sold amongst friends. Will is currently working on writing and recording a new set of material to showcase through another minor release, various websites and many live shows. He has been acclaimed to be 'a mix between Nick Drake, Ryan Adams and Fionn Regan' the three of which form part of his influences, which also include many Folk, Rock, Americana, Country and Soul artists. The resulting sound is a unique, melodic one with many interesting keys and acoustic style riffs. He looks to become more highly acclaimed within the next few months / years.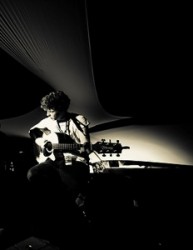 click to enlarge
Leeds based singer songwriter, originally cut his teeth on the Tunbridge Wells and Kent live circuit also with a string of gigs in Hong Kong on a year abroad. Josh has been writing songs influenced by songwriters such as Justin Vernon, Conor Oberst, Marcus Foster and Peter Liddle. Josh is now working on recording some good quality demos with mind to increase exposure and play more gigs. Recent live performances on LSTV and Leeds Student Radio aswell as a filmed session with Leeds Live Lounge have helped to achieve this. More recent success has come in the form of a winning performance in Talent at Uni, the prize money from which will fund Josh's first foray into the studio to put down an EP.
"The smooth husky tones in his voice and the beautiful acoustics, it's all packaged and made his own to create simply stunning music. It's powerful enough to melt your heart, or powerful enough to make you cry..." Beat2aChord
"His music has a very strong yet relaxed feel and his rich, gravelly voice gives an undertone of passion to his performance" Amy Adejokun, HerCampus
"Josh is an incredibly modest and genuine artist, with undeniable talent I believe he has the potential to become a fitting success." William Harratt, Talent At Uni
"Josh Davies has paved the way for young male musicians with his unmistakeably unique voice and soulful lyrics. His acoustic vibe is a breath of fresh air to the electronic generation." Kimberly Dickson, Support Young Talent