Mark Chase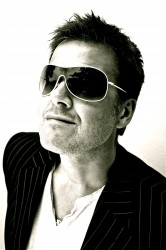 click to enlarge
Liverpool born songwriter Mark Chase was the leader of the notorious 90's band World of Leather, who released 2 albums and 7 EPs through Sony. They toured extensively in the UK and Europe and sold respectably in Japan & Scandinavia, whilst skilfully avoiding the UK charts.
Prior to this, Mark had been a successful session musician & session singer, working with numerous artists including Belinda Carlisle, T'Pau, Taylor Dayne and Julian Lennon. He also worked as a commercial session vocalist, recording 'sound-alike' tracks for TV shows and adverts.
After seeing Beck perform a solo gig a few years ago, Mark altered his approach to music, favouring the 'stripped down' acoustic style of Neil Young, Damien Rice and Rickie Lee Jones. He continues to perform live regularly, both with his band and as a solo performer. Four of his songs have been used in movie soundtracks.
In tandem with his music career, Mark has also been a TV Presenter on a variety of shows, including; The Survivors Guide, Sextalk (both C4), Breakfast Time, Going Live! (BBC1), Wideangle, Country File (ITV) and Toyah & Chase (VH-1).
Last played:
The Grey Lady Music Lounge, Wednesday 24th April 2019
Miar Murphy, Mark Chase, James McMaster