Easter Extravaganza - Tickets only!, Friday 22nd April 2011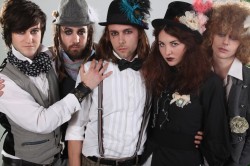 click to enlarge
Popular local four-piece band Origami Dinosaur was created by Kinsey Green (lead vocals) and Mejelon Majones (lead Guitar/vocals) in a loft in the English town of Tunbridge Wells. Through their combined love of music and passion for all things strange and beautiful, they wrote songs to inspire a disillusioned youth, or just to make them smile. Their style gets its distinction from the very wide influences of the band, rooted in blues and funk but certainly not defined by it, this is giant riffs with quirky beats, disco funk bass and male/female vocal jam insanity. Refreshingly different, obscenely odd, there is nothing quite like origami dinosaur! Funky drummer Robin O'Keeffe joined the band in 2008 followed by bass extraordinaire, MOLE...the band's very own flea, and on occasion they are joined by special guest, disco mentalist: 'Afro Joe'. The band have an exciting 2009 planned, now officially sold out of the first 2 E.P's, both recorded at local studio 'lo-tek' by producers bombay monkey. new recordings are on their way and are taking new direction and style. Now half the group resides in Brighton, they are dividing their time between their home town and their new town!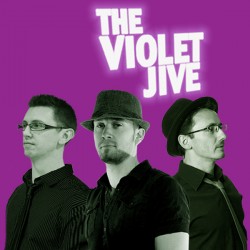 click to enlarge
A retro Swing sound with feverish Latino curves, Hip-Hop head nods and a cool dark Alternative rock twist!
Formed and fronted by songwriter, producer, musical 'mixologist' Steve Spall -Guitar/Vocals as a platform for his vibrantly original material. The band features Paul Beeching on the 'cupboard of love' aka Double Bass, and rhythmic rebel Matt Wilson on Drums, alongside Spall's mesmerizing vocals and highly revered 'filthy Spy-esque' swing/alternative guitar prowess. Influences include The Jungle Book soundtrack, Portishead, Soundgarden, Brian Setzer/ Stray Cats, Tarantino Sountracks, The Gotan Project, Tom Waits, Beastie Boys & Beyond.
"Fresh ideas, retro vibes and a healthy dose of musical juxtaposition, will engage fans of widely varying musical genres" –Timeout.
A debut originals album 'Far Flung' was released on the band's label Pitch-Ray Records in 2008, a mellow yet tantalizingly dark introduction to The Violet Jive sound (available on iTunes), and a new album 'Rhythm Mythology' is due Spring 2011.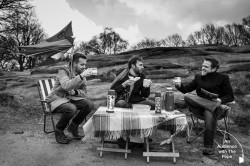 click to enlarge
Formed in late 2009 by Mike Wilton, The Standard Lamps believe that it's about time that we took things back to basics. During the last two years, Mike has been experimenting with various musicians to produce 'The Standard Lamps' which consists of James Livett on bass and Matt Bennie (Goldie Reed, Billy Jupp) on drums.

Playing countless gigs in the South East, The Standard Lamps have been pleasing audiences since Early 2010. Their music can be described as a mixture of melodic tunes with a raw blues edge. With their first EP 'Portland' (2010) and debut album 'Sell Everything You Own' (2012) already under their belts, they are now planning the second album with a trilogy of singles to be released throughout Summer 2013.

The Standard Lamps believe in sounding where you come from. The Standard Lamps believe in variety. The Standard Lamps believe having fun with what you're doing. The Standard Lamps believe in giving you a good time.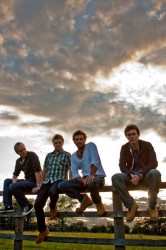 click to enlarge
One time solo singer/songwriter Charlie Rivers has witnessed a truly organic growth in his music which has slowly but surely taken on a full band sound, spurred on by Steve McCormack (guitar), Steve Bassett (bass) and Ash Rushman (drums). In the space of only 16 months, The Charlie Rivers Band has morphed from the 'hear-a-pin-drop' sounds of one man and his guitar, to an uncompromising full band musical experience. 2009 saw the guys play at the "Busking Cancer" launch event alongside "Madness," and attained duo slots at Hyde Park and Wireless festival. Last year the band launched their much anticipated debut album 'Tender Chaos,' playing a host of sell out shows both in the UK and abroad including a storming headline set at the the Local & Live Music festival. Their single "Crazy" received a great deal of local radio play and recent support sets have included Newton Faulkner, Matt Berry and Toploader. The band are currently working on their follow up album, having previewed some of their new material throughout the course of 2011, set for a release in early 2012.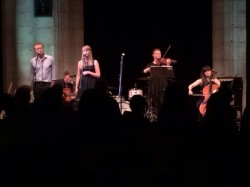 click to enlarge
Singer-songwriter, Paul Dunton leads his own unique cross-over orchestra providing an atmospheric fusion of alternative and pop with a classical twist. Paul & his Orchestra take influences from varying modern day artists such as Pink Floyd, Elbow, ELO, Turin Brakes, Massive Attack, Damien Rice and contemporary composers such as Samuel Barber, Ludovico Einaudi, John Barry and Hans Zimmerman. The Orchestra performs Paul's own compositions and a varied selection of uniquely arranged standards from a wide range of artists. The line-up of 8 violins, 4 cellos, guitar, flute, bass and percussion accompanies Paul on vocals and piano, joined by his lead vocalists, Charlotte Andrew and Poppy Raine. Paul and his Orchestra regularly perform at concerts, festivals and private events throughout the UK and internationally, including headlining the Theatrium Wilhelmstraße Festival in Wiesbaden, Germany and an 8 state tour of the USA which culminated in a spectacular roof-top performance on top of the New York Strand Hotel. Increased attention and success led to the orchestra being featured on BBC Radio 2 by Joan Armatrading with interviews and airplay of one of Paul's songs, 'Don't Forget'. This led to Paul supporting Joan Armatrading on five occasions during her recent UK tours.