The Violet Jive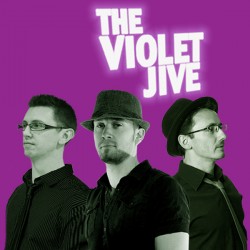 click to enlarge
A retro Swing sound with feverish Latino curves, Hip-Hop head nods and a cool dark Alternative rock twist!
Formed and fronted by songwriter, producer, musical 'mixologist' Steve Spall -Guitar/Vocals as a platform for his vibrantly original material. The band features Paul Beeching on the 'cupboard of love' aka Double Bass, and rhythmic rebel Matt Wilson on Drums, alongside Spall's mesmerizing vocals and highly revered 'filthy Spy-esque' swing/alternative guitar prowess. Influences include The Jungle Book soundtrack, Portishead, Soundgarden, Brian Setzer/ Stray Cats, Tarantino Sountracks, The Gotan Project, Tom Waits, Beastie Boys & Beyond.
"Fresh ideas, retro vibes and a healthy dose of musical juxtaposition, will engage fans of widely varying musical genres" –Timeout.
A debut originals album 'Far Flung' was released on the band's label Pitch-Ray Records in 2008, a mellow yet tantalizingly dark introduction to The Violet Jive sound (available on iTunes), and a new album 'Rhythm Mythology' is due Spring 2011.
http://www.thevioletjive.co.uk/
Last played:
10th Anniversary Week: Sound Sanctuary, Leanie Kaleido, Jono Harrison, The Violet Jive, Harley & Woods, Friday 7th August 2015
Sound Sanctuary, Leanie Kaleido, Jono Harrison, The Violet Jive, Harley & Woods