The Grey Lady Music Lounge, Sunday 2nd February 2020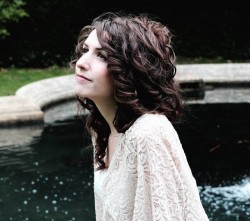 click to enlarge
Emotive songstress, Jennifer Lee Ridley passionately uses influences of a Romantic folk nature to create poignant and touching music. She has studied in depth the poetic nature of song and has a strong affinity with writers such as William Shakespeare, John Keats and William Blake. More recently she has combined these influences with her own song-writing to create more modern fusions whilst carefully retaining the purity of the lyrical content. Her dark warm vocals combined with her individual folk sound mirrors the poetic lyrics which explore the many facets of emotions.
This has had a profound effect on her own songs which she continues to develop and enhance through working with other composers, musicians and writers locally and in London. She feels strongly that collaborating is an important part of growing and building an understanding of the nature and the impact of poetry and prose on music.

She is currently working on and arranging an album which she is hopes to bring out in 2014.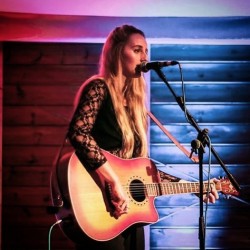 click to enlarge
Sophie is an acoustic solo artist, performing a wide range of covers and original material, guaranteed to captivate any audience. Her original songs are inspired by a mix of influences; including 80s and 90s indie and psychedelic rock with a modern day twist.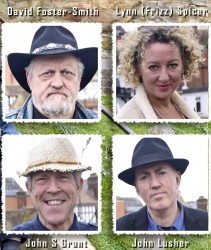 click to enlarge
MoVe OvEr DaLi are a 'bluesabilly' retro pop/rockabilly band based in West Kent UK. They play at fetes, festivals, barbecues, good pubs, and peoples' houses around the Kent/Sussex/ Surrey area.The material is a mix of original songs and unusual covers in their own style.
They are:
Lyn 'Friz' Spicer - lead vocal
David Foster-Smith - Guitar, lead vocal
John S Grant - cajon, harmonica
John Lusher - Bass Guitar
Bart Brummer - percussion, cajon
Mark Orchin - Lead Guitar
David has had a number of songs published and released. As the co-writer and Producer of BIBA the Musical (2009) he has had a number of artists performing his songs (Andrew P Wood, Claire Hutchins, Magic Lili, Judge Dread, et al) as well as indents in film.
We are a mature lively party band who have fun live and play with either a percussionist or drummer or both, at larger gigs.
Proud supporters of Live and Local music, Mental Health charities, and quirky interesting music from all genres.