MoVe OvEr DaLi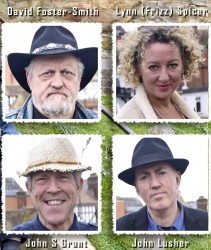 click to enlarge
MoVe OvEr DaLi are a 'bluesabilly' retro pop/rockabilly band based in West Kent UK. They play at fetes, festivals, barbecues, good pubs, and peoples' houses around the Kent/Sussex/ Surrey area.The material is a mix of original songs and unusual covers in their own style.
They are:
Lyn 'Friz' Spicer - lead vocal
David Foster-Smith - Guitar, lead vocal
John S Grant - cajon, harmonica
John Lusher - Bass Guitar
Bart Brummer - percussion, cajon
Mark Orchin - Lead Guitar
David has had a number of songs published and released. As the co-writer and Producer of BIBA the Musical (2009) he has had a number of artists performing his songs (Andrew P Wood, Claire Hutchins, Magic Lili, Judge Dread, et al) as well as indents in film.
We are a mature lively party band who have fun live and play with either a percussionist or drummer or both, at larger gigs.
Proud supporters of Live and Local music, Mental Health charities, and quirky interesting music from all genres.
https://www.reverbnation.com/moveoverdali
MoVe OvEr DaLi on Twitter (@overdali)
Last played:
The Grey Lady Music Lounge, Sunday 2nd February 2020
MoVe OvEr DaLi, Sophie Harmsworth, Jennifer Lee Ridley