The Grey Lady Music Lounge, Wednesday 9th October 2019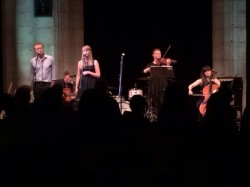 click to enlarge
Singer-songwriter, Paul Dunton leads his own unique cross-over orchestra providing an atmospheric fusion of alternative and pop with a classical twist. Paul & his Orchestra take influences from varying modern day artists such as Pink Floyd, Elbow, ELO, Turin Brakes, Massive Attack, Damien Rice and contemporary composers such as Samuel Barber, Ludovico Einaudi, John Barry and Hans Zimmerman. The Orchestra performs Paul's own compositions and a varied selection of uniquely arranged standards from a wide range of artists. The line-up of 8 violins, 4 cellos, guitar, flute, bass and percussion accompanies Paul on vocals and piano, joined by his lead vocalists, Charlotte Andrew and Poppy Raine. Paul and his Orchestra regularly perform at concerts, festivals and private events throughout the UK and internationally, including headlining the Theatrium Wilhelmstraße Festival in Wiesbaden, Germany and an 8 state tour of the USA which culminated in a spectacular roof-top performance on top of the New York Strand Hotel. Increased attention and success led to the orchestra being featured on BBC Radio 2 by Joan Armatrading with interviews and airplay of one of Paul's songs, 'Don't Forget'. This led to Paul supporting Joan Armatrading on five occasions during her recent UK tours.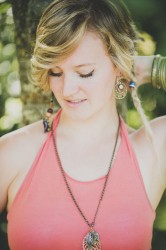 click to enlarge
In October 2014, Phoebe was commissioned to write the only piece of music in BAFTA and BIFA winning movie 'Kajaki. The True Story' ('Kilo Two Bravo' – US release). Her single 'All Of My Life' is the theme to the modern British War Film and has reached over 130,000 plays on both Spotify and YouTube.
In September 2017 Phoebe released a piano-vocal album of her own music, show casing her talent as a performer and diverse songwriter. Phoebe's new single 'Promises' is set for release in March 2018 (prod. by Tim Bazell, Heart of Gold Studios). Phoebe's talent for diverse songwriting has led her to work with a number of producers and artists across a range of genres.
On the performance side, as both a solo artist and with her band, Phoebe has played at a number of prestigious venues including sold out Jazz Club @ Pizza Express Dean St and Ronnie Scott's. She has also played the festival circuit, including Glastonbury, Secret Garden Party, and Bestival. Phoebe performed at the private 70th anniversary party for BBC Radio 4 Women's Hour, and has had numerous appearances and support from BBC Radio Kent.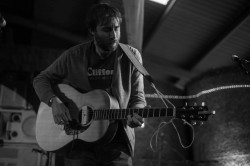 click to enlarge
Mike Wilton is best known as the frontman of East Sussex/Kent band The Standard Lamps. The Standard Lamps supported The Who 9 times on their 2014 and 2017 UK tours as well as supporting The Bluetones on their 2015/2016 UK tour. The band enjoys a strong local following that continues to grow up and down the UK.

Mike released new album 'Imaginary Friend' in May 2018, while The Standard Lamps take a short break.

Mike can also be seen playing with Mark Morriss, Simon Townshend and David Mumford.

As well as producing The Standard Lamps' two records (Sell Everything You Own in 2014 and Long Lost Love in 2016), Mike has recently produced Brighton band Tenderhooks' North Star album.