The Grey Lady Music Lounge, Sunday 16th June 2019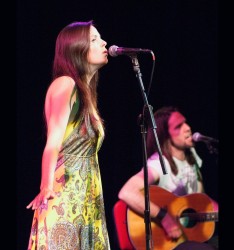 click to enlarge
Formed in 2010, Kent based folk/country artists The Breretons are set to emerge on the London music scene this year with a string of live dates and a debut album scheduled for release in the Autumn. Born from the ashes of London based rock outfit The Original Sinners, the brother/sister duo Marc and Charlotte are returning to their folk roots, playing heartfelt story telling songs of rare poetic quality. Their haunting harmony vocals are accompanied by Alex Metcalfe (piano), Kirsty Mangan (violin), Jim Cox (drums) and Pete Clements (bass).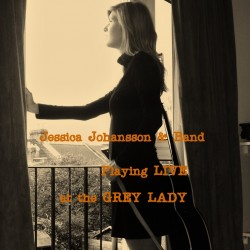 click to enlarge
Jessica Johansson is a Swedish singer/songwriter now based in Kent. She combines heartfelt stories with haunting melodies, usually based on experiences from her own life or careful observation. Jessica might easily be pigeonholed into the box marked fair female singer songwriter but her songs are fearless and not afraid to look into the dark heart of human relationships and confront the hard truths.
Jessica started the band with inspirational and multi-talented bass player John Brooker. John then recruited Dutch percussionist Bart Brummer, and Andrew Cruickshank, lead guitarist from Scotland, who he had previously played with and that he knew would fit well in the band. Bart surprised with his unique sounds, with a passion to explore rhythm instruments, and Andy, with a perfect sensitive and intuitive approach to the collaborative process and a real invaluable skill of finding the right sentiment and feel for the songs.
The music is a fusion of four different personalities, harmonies and instruments, but still maintains the integrity of Jessica's original song ideas. These ideas are influenced by artists such as Tracy Chapman, James Morrison, Damien Rice and various Swedish musicians.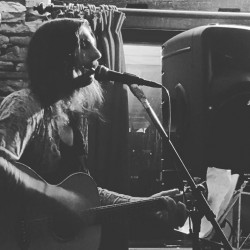 click to enlarge
Chris Parris is the lead singer and guitarist of the band Sarah Tonin, who have established themselves as one of the most original psychedelic rock bands of the music scene. Being the main songwriter for the band, Chris has a large back catalogue to choose from but tonight will be singing predominantly new material which he's been working on over the last couple of months for this solo project.
Music for Parris has usually come from a place of rock, folk, country and blues. These are sounds that can fuel the psychedelic ethos and style of Sarah Tonin and this is no exception when composing music more suitable for the acoustic guitar. There are always too many influences to name but you may catch glimpses of Roy Harper, Nick Drake, Bob Dylan, Neil Young and The Incredible String Band in there somewhere.
Sarah Tonin are on a break presently from performing after the sudden tragic loss of dear friend and bassist David Saunders at the end of 2018, he will always be remembered.
After years of physical and mental health problems mainly due to diet and now finally on a road to recovery thanks to his family, Parris is keeping the spirit alive and is embarking on a soul searching expedition of song writing and inner explorations. Let's see how far out the boat can be pushed! Sarah Tonin's debut album 'Spinning Chaos' is on sale tonight.