The Grey Lady Music Lounge, Wednesday 1st August 2018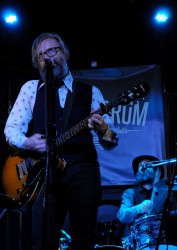 click to enlarge
The Naming Of Things sing heartfelt songs of love and loss. Based around the songs of Andrew Lennox, coupled with the sinuous bass-lines of Jim Carrigan, the Tunbridge Wells-based band return after something of a hiatus. After a year that included the release of an eponymous EP, swiftly followed by a change of line-up, a series of personal tragedies has meant the songs have taken a darker, more reflective turn. The new material explores the fringes of folk and Americana (or should that be Canadiana - Lennox is half Canadian) and is influenced by the lyricism of Dylan, Cohen and Waits. The recent addition of Kate Genery, James Cox and Alex Metcalfe to the line-up has taken the band into new and exciting sonic territory. The band will be returning to the studio to record a new E.P. in the autumn.
Expect wistful melodies accompanied by an eclectic array of instruments including banjo, omnichord, glockenspiel, trumpet and accordion.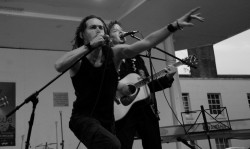 click to enlarge
Night Without Sleep are amazed they are still alive. They have fully embraced this lease of life in becoming an acoustic duo comprised of Mad Dogs - Wolff Williams (vocals/guitar) and Jim (Funboy) Loosley (guitar/vocals). Trying hard not to let themselves fall into any one genre of music, they are renowned for their dramatic live shows with their close to the mark lyrics and the ability to get under the skin of the listener, marking them out as true artistic performers. Sitting comfortably away from the safety of uplifting pop they offer songs that are interesting, edgy, full of emotion and very different to anything else you will see. They are currently in the studio recording a couple of EPs which is about time.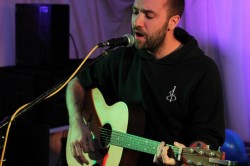 click to enlarge
Joe is the singer-songwriter behind popular local acts "Cyrano" and "The Ackerleys". His style combines rich vocals, poignant lyrics, catchy melody and folk/rock acoustic guitar. At the end of 2012, Joe toured with Level 42 backing Dan Clews. This included playing to full house at the Royal Albert Hall! He has just finished an album with Cyrano which will be released this year. He is also busy working on The Ackerleys first record. His solo set includes some brand new material plus a few stripped down Cyrano songs. Influences include – Elbow, The Beatles, Dawes, Jeff Buckley, Rufus Wainwright, Scott Matthews, Pearl Jam, Crowded House and Radiohead.