The Grey Lady Music Lounge, Wednesday 8th February 2017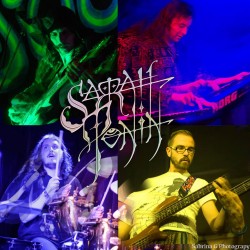 click to enlarge
Sarah Tonin are an alternative rock band from the Tunbridge Wells area of Kent. Thanks to their mixed musical backgrounds the band's influences range far and wide, indulging in psychedelic and progressive rock with funk and fusion thrown into the mix. Their music incorporates these various styles and transforms them into a fresh and exciting new sound.
Chris Parris is the singer/songwriter and front man of the group, bringing together influences from psychedelia and space rock, giving the funk driven grooves a darker edge. With lyrics exploring topics of the human condition and the mysteries and surrealness of the universe, the arrangements of the songs can often take the listeners to wonderful and unexpected places.
Parris and Marcus Chapman are the main creative driving force behind the band and over the course of two years recorded and produced the bands debut album 'Spinning Chaos'. Chapman has been playing piano most of his life and is an experienced music producer. He crafts magical sounds that bring out different colours in various sections of their songs. He has mean organ tones, beautiful piano parts and his hypnotic, progressive synth solos leave audiences breathless.
The album has reminiscent sounds of bands such as The Doors, Jimi Hendrix, Soft Machine, Deep Purple and Radiohead but takes the music in other directions exploring their own unique sound. The album features Parris on rhythm guitar & lead vocals, Chapman on piano and keyboards, Steve Brook on lead guitar & backing vocals, Jamie Kerry on drums and Josh Campbell on bass.
Over the summer of 2015 the band line-up evolved and expanded while performing at numerous festivals. Joey Lyon is now on drums bringing his immense sound into the group giving the music new life, and on bass audiences have been treated to Mikey Hurst and Phil Wakeman, both jaw dropping musicians who have been writing and performing with the band. Out of all of this the group have been writing new material which they will be performing at upcoming shows.

Sarah Tonin are emerging as one of the most original sounding rock bands of the British music scene and are gathering more and more fans. Their album 'Spinning Chaos' is now available on Fusion Records, CD, Spotify, iTunes and all other online stores. There is now an amazing selection of official Sarah Tonin merchandise available. Follow them on facebook for gigs and updates and please visit the official band website.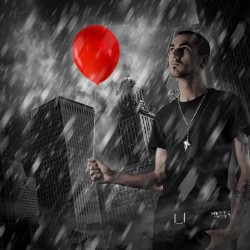 click to enlarge
Code: Marla is a musical project based completely around a love of sound. Led by CJ Thorpe (Bass, Beats, Synths + Production) and featuring new vocalist Millie Davis, Code: Marla combine elements of live electronic music and organic bass tones with complex textures and harmonies. Influenced by a mixture of ambient trip-hop and dubstep, Code: Marla fuse elements of genres to create a dark, hypnotising atmosphere. Signed to online record label Bitnormal Records, and with a new EP (Press X To Jason) now available, Code: Marla are setting out to shake the foundations of every venue they play.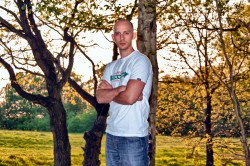 click to enlarge
James Medhurst has been in love with music since he got his first guitar at the age of 8 and intends to keep playing all the way up to 80.
After fronting the pop punk band Wayside Kings he has now decided to take his acoustic guitar in one hand, a cup of tea in the other, and explore a solo career.
James' style is mostly taken from the American alternative scene. His influences range from Counting crows, Taking Back Sunday, New Found Glory to Incubus, which he uses to fuse his own take of soulful pop rock.
His aim is to create a catalogue of uplifting songs that reflect the way he see the world.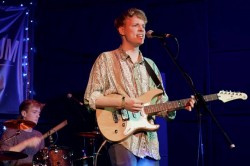 click to enlarge
Martin is the front man in this thing called The Floodgates, which is very exciting and he strongly encourages you to give that a listen when you next can. Yet when his band mates are busy, you can find him roaming the streets desperately trying to feel relevant, playing a collection of band and solo tracks which can be found online, with a raw passion beyond his years.
Between working on The Floodgates debut EP, second tour and having a number of festivals all booked for 2016; Martin is living his lifelong dream of being a full time musician, which you can clearly see in his live shows.
Debut EP 'Paint' out Summer 2016.