Sarah Tonin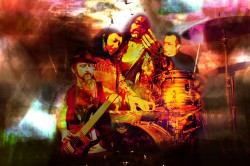 click to enlarge
Sarah Tonin are an alternative rock band from south east England who are on a musical quest of discovery and self exploration. They indulge in psychedelic and progressive rock with infectious material and fresh hooks, with improvisation and funk an integral aspect of the sound. The music fuses these styles and transcends into an unheard and exciting new sound with songs for a new era.
Front man of the group, Chris Parris, brings together influences from psychedelia and space rock, giving funk driven grooves a darker edge. With lyrics exploring topics of the human condition and the mysteries and surrealness of the universe, the arrangements of the songs often take the listeners to wonderful and unexpected places.
Parris and Marcus Chapman are the creative driving force behind the band, recording and producing their debut album 'Spinning Chaos'. Chapman has been playing piano most of his life and is an experienced music producer. He crafts magical sounds bringing out different colours in various sections of their songs. He has mean organ tones, beautiful piano parts and his hypnotic, progressive synth solos leave audiences breathless.
The band's killer rhythm section is incredibly talented and versatile Jez Palmer on drums and Bouncy Piper on the bass who has an amazing natural talent for plucking, slapping and laying down a solid groove. Their immense, jaw dropping sound gets the crowd moving every time at festival stages and venues across the south. Sarah Tonin are currently working on new material for their second studio album and are psyched about the future ahead, having already performed at the spring Equinox at Stonehenge on 19th March 2018, as well as confirmed slots at Small World, Live on BBC Radio Kent, Summer Stonehenge Free Festival, Sol Party and Green Gathering for this year. After performing to nearly 2000 people at last years Local & Live in Calverley Park and putting on a tremendous show the band are certainly ready for larger audiences.
Last played:
The Grey Lady Music Lounge, Wednesday 16th May 2018
Artist (TBC), Ellie Wade, Laura Lamn, Sarah Tonin