The Grey Lady Music Lounge, Tuesday 13th December 2016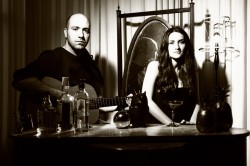 click to enlarge
It is a year now since Cyrano's Joe Ackerley teamed up with his sister Alice to form 'The Ackerleys' as a side line - turned major project! Already they have a fast-growing repertoire of folk/pop tunes, some light and uplifting, some moody and soulful, but all featuring close harmony, strong chord structure and catchy melody. Joe employs his prodigious song writing skills and his own rich baritone to complement and showcase Alice's striking voice. Joe's roots are in rock music as is well known to many of on the TW music scene, his deep seated influences an unusual mix of Pearl Jam/ Radiohead/ Elbow/Crowded House/Jeff Buckley. His sister Alice, just turned 17, provides a more contemporary vibe – Laura Marling, The Staves, Florence and the Machine, Emmy the Great, Marina & the Diamonds. The result is delightfully different - but judge for yourself. The dynamic duo has now added lead guitar and drums in the form of Steve McCormack, and Matt Wilson.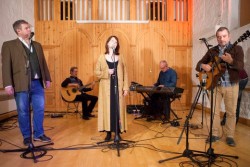 click to enlarge
ARCELIA - Soulful folk from the valleys of Kent

"Wonderfully warm harmonies".... MOJO Magazine
"With this kind of talent on display expectations are high,and they are resoundingly met on each track." ★★★★★ R'n'R Magazine
"Here is songwriting and singing of the very highest order.." 9/10 Americana UK
"Owes so much to the likes of Crosby,Stills & Nash with their dreamy acoustic meanderings, contrast of the individual voices and combination of well matched harmonies." Louder Than War
"Trailblazing a new genre"… Classic Rock Society
Arcelia's critically acclaimed new album, Building On The Land, is out now on How Now Records.
Arcelia (pronounced Ah-KELL-ia – meaning 'treasure chest' in old Spanish) are songwriter Gavin Alexander (has supported the likes of Mark Nevin, co -wrote the theme tune to Studio Ghibli's Emmy award winning TV series, Ronja the Robber's Daughter), voice artist Teresa Gallagher (Octonauts, Thunderbirds, Thomas & Friends) and Flying Picket Simon Foster. Together they create an exquisite sound which has been likened to Crosby Stills & Nash, America, Paul Simon and Squeeze (they regularly perform and tour with Chris Difford). They have also been in demand as a support act for the likes of Scott Matthews, Oysterband, Coope Boyes and Simpson, Michele Stodart and Maddy Prior.
For their new album Building on the Land' the band continues to evolve into an exceptional songwriting and performing unit, further exploring stunning songs of everyday life and loves.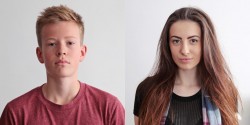 click to enlarge
MODL are a unique electronic act, combining the catchy musicality of today's pop sound with the more alternative world of diverse synth and drum sounds, keys and organic instruments. Charlotte's soulful vocals, acquired from years of experience singing on stage and in the studio, offer an R&B-esque tone to Richard's range of production and songwriting styles. Together they have been performing for nearly 2 years but their music careers extend much further back to numerous independent ventures and joint projects. MODL now have two official singles steadily picking up plays - with 'The Things I'll Do' featuring on Spotify's Fresh Finds playlist - and with an album on the horizon are collaborating more and more with Tunbridge Wells vocalist Imy Laurie, who offers yet another dimension of sound to their recordings.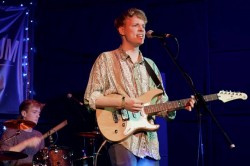 click to enlarge
Martin is the front man in this thing called The Floodgates, which is very exciting and he strongly encourages you to give that a listen when you next can. Yet when his band mates are busy, you can find him roaming the streets desperately trying to feel relevant, playing a collection of band and solo tracks which can be found online, with a raw passion beyond his years.
Between working on The Floodgates debut EP, second tour and having a number of festivals all booked for 2016; Martin is living his lifelong dream of being a full time musician, which you can clearly see in his live shows.
Debut EP 'Paint' out Summer 2016.