Arcelia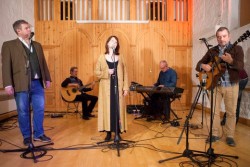 click to enlarge
ARCELIA - Soulful folk from the valleys of Kent

"Wonderfully warm harmonies".... MOJO Magazine
"With this kind of talent on display expectations are high,and they are resoundingly met on each track." ★★★★★ R'n'R Magazine
"Here is songwriting and singing of the very highest order.." 9/10 Americana UK
"Owes so much to the likes of Crosby,Stills & Nash with their dreamy acoustic meanderings, contrast of the individual voices and combination of well matched harmonies." Louder Than War
"Trailblazing a new genre"… Classic Rock Society
Arcelia's critically acclaimed new album, Building On The Land, is out now on How Now Records.
Arcelia (pronounced Ah-KELL-ia – meaning 'treasure chest' in old Spanish) are songwriter Gavin Alexander (has supported the likes of Mark Nevin, co -wrote the theme tune to Studio Ghibli's Emmy award winning TV series, Ronja the Robber's Daughter), voice artist Teresa Gallagher (Octonauts, Thunderbirds, Thomas & Friends) and Flying Picket Simon Foster. Together they create an exquisite sound which has been likened to Crosby Stills & Nash, America, Paul Simon and Squeeze (they regularly perform and tour with Chris Difford). They have also been in demand as a support act for the likes of Scott Matthews, Oysterband, Coope Boyes and Simpson, Michele Stodart and Maddy Prior.
For their new album Building on the Land' the band continues to evolve into an exceptional songwriting and performing unit, further exploring stunning songs of everyday life and loves.
http://www.arcelia.bandcamp.com/
Last played:
The Grey Lady Music Lounge, Wednesday 25th July 2018
The Breretons, Steffan James, Arcelia, Rob Picazo Band