The Pheasantry, Pizza Express, Thursday 19th May 2016
Tickets £10 - available on 08456 027017. Order before 5pm on 18/05/2016 and quote any of the band names to qualify for a discounted early bird ticket at £7.
Or order online at www.pizzaexpresslive.com.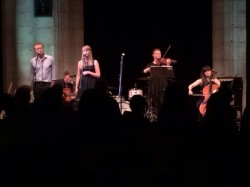 click to enlarge
Singer-songwriter, Paul Dunton leads his own unique cross-over orchestra providing an atmospheric fusion of alternative and pop with a classical twist. Paul & his Orchestra take influences from varying modern day artists such as Pink Floyd, Elbow, ELO, Turin Brakes, Massive Attack, Damien Rice and contemporary composers such as Samuel Barber, Ludovico Einaudi, John Barry and Hans Zimmerman. The Orchestra performs Paul's own compositions and a varied selection of uniquely arranged standards from a wide range of artists. The line-up of 8 violins, 4 cellos, guitar, flute, bass and percussion accompanies Paul on vocals and piano, joined by his lead vocalists, Charlotte Andrew and Poppy Raine. Paul and his Orchestra regularly perform at concerts, festivals and private events throughout the UK and internationally, including headlining the Theatrium Wilhelmstraße Festival in Wiesbaden, Germany and an 8 state tour of the USA which culminated in a spectacular roof-top performance on top of the New York Strand Hotel. Increased attention and success led to the orchestra being featured on BBC Radio 2 by Joan Armatrading with interviews and airplay of one of Paul's songs, 'Don't Forget'. This led to Paul supporting Joan Armatrading on five occasions during her recent UK tours.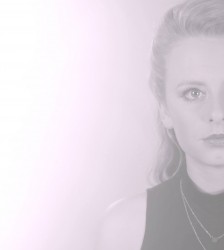 click to enlarge
Kate lomas is an up and coming London based singer/songwriter.
Originally from Bath, Kate takes influences from the likes of Lorde and
Lana Del Rey and recently fell into the English electronic scene amongst
other up and coming artists such as Jack Garatt and Lapsley. Kate is
currently working on her eagerly awaited electro pop EP with producer, Guy Britton, which is due to be released in the summer 2016.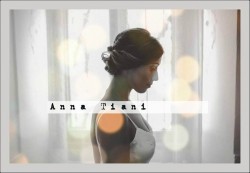 click to enlarge
Anna Tiani is an up and coming London based soulful singer-songwriter and performer. Raised between Croatia, Italy and Boston,USA, she has been collecting pieces out of her life's journey to develop her unique style combining Pop, Soul and Electronic Music. At the age of 6 she performed her first written composition, since then she never stopped singing and exploring her own art.
Currently working on new material for her up coming E.P 'The sound of colours' which is due to be released September 2016. The '4 song' E.P will be a refined and curious sound uniting Anna's style with the world of electronica.
In the summer 2010 Anna attended the prestigious 'Berklee College of Music' in Boston where she devoted her time exploring the world of Jazz vocal performance and composition as well as formed a band had the opportunity to perform at major venues such as 'The Boston Symphony Hall' and the 'BPC'. She has also been performing all over Europe and had her song played on the Italian and Croatian national radio station.
Anna continues her journey in London at the 'Institute of Contemporary Music Performance' working on her new material and further development of her music.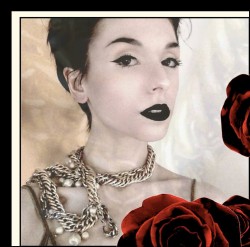 click to enlarge
Darcy Béhati is a combination of hip hop with jazz and a splash of soul, hence her self-defined genre of Hizaul. Having performed at Westfield London, The Pheasantry Chelsea, Shoreditch Rich Mix, and even abroad on the islands of Santorini, Darcy Béhati is a girl whose sound and vision is becoming known amongst many. Her first EP is set for release this summer of 2016, with many performance dates to follow. You can find Darcy on soundcloud, vimeo, youtube and tumblr for more information and links to other social media.