Anna Tiani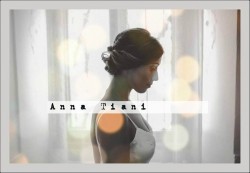 click to enlarge
Anna Tiani is an up and coming London based soulful singer-songwriter and performer. Raised between Croatia, Italy and Boston,USA, she has been collecting pieces out of her life's journey to develop her unique style combining Pop, Soul and Electronic Music. At the age of 6 she performed her first written composition, since then she never stopped singing and exploring her own art.
Currently working on new material for her up coming E.P 'The sound of colours' which is due to be released September 2016. The '4 song' E.P will be a refined and curious sound uniting Anna's style with the world of electronica.
In the summer 2010 Anna attended the prestigious 'Berklee College of Music' in Boston where she devoted her time exploring the world of Jazz vocal performance and composition as well as formed a band had the opportunity to perform at major venues such as 'The Boston Symphony Hall' and the 'BPC'. She has also been performing all over Europe and had her song played on the Italian and Croatian national radio station.
Anna continues her journey in London at the 'Institute of Contemporary Music Performance' working on her new material and further development of her music.
Last played:
The Pheasantry, Pizza Express, Thursday 19th May 2016
Darcy, Anna Tiani, Kate Lomas, The Paul Dunton Orchestra