The Grey Lady Music Lounge, Wednesday 16th July 2014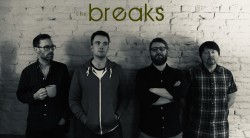 click to enlarge
Normally found hanging out at Dud's farm in the depths of Ashdown Forest, The Breaks are a lightly-bearded, folk-tinged pop band from the darker side of Tunbridge Wells. Influenced by acts like Okkervil River, Bonnie Prince Billy, Iron & Wine and Husky, their sound is at times melancholic, occasionally menacing, and always melodic, rich and tuneful. The band includes singer-songwriter Stu Cardwell on vocals and guitars, Andy Shonfeld on bass, Al Smith on vocals, keys, guitar, mandolin and banjo, and Alex Cooper on drums and percussion.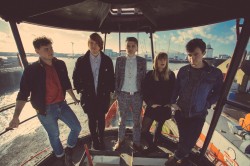 click to enlarge
CORONATION BALL uploaded their first track 'You Had My Heart' to soundcloud in January 2014, the band was immediately picked up by french music blog La Belle Musique and subsequently by blogs including Hunger TV and Clash Music along with BBC 6 Music DJ Tom Robinson. Since January the band have played only a handful of shows headlining The Tunbridge Wells Forum in March and following fellow 'Paul Dunton and Guests' artists 'Annaca' and 'Will Joseph Cook' in appearing for Young & Lost Club Records' at their monthly showcase in London.
"A contagious, uniquely odd pop-phenomenon" - Clash Magazine

"You Had My Heart is fantastic, Wild Beasts gone stadium-pop" - Drowned in Sound founder Sean Adams

"Canny songwriting that lunges straight for the jugular with no messing" - BBC 6 Music DJ Tom Robinson on 'God Be Careful'
"Undeniably Catchy" - Hunger Magazine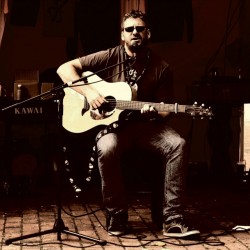 click to enlarge
Emerging on the local singer/songwriter scene over a decade ago after a number of years playing in cover bands, Chris was quickly hailed as "an inspiring modern day troubadour who pens lyrics of real substance and meaning." His music was described as "touching on themes and experiences that people are genuinely able to relate to and which capture the attention of his audience from the very first note, whether listening to him live or on one of his recordings."
10 years later despite a long battle with tinnitus, the above remains as true as ever but with the added depth and insight that another decade of life experience brings. He has played regularly in the UK as well as at the fringe at SXSW and a number of venues in around Dallas and Austin. He is also one of the very few artists to have been played every Local & Live festival.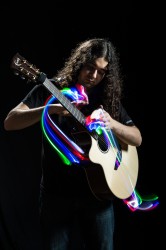 click to enlarge
Sean de Burca is a percussive acoustic guitarist from Kent. By the time he had been playing guitar for just 7 years, he had already been named as one of the top 30 greatest acoustic guitarists under the age of 30 worldwide by Acoustic Guitar Magazine, alongside Ed Sheeran, Newton Faulkner and more. Sean has also been featured as Acoustic Magazine's 'Next Big Thing'. On his latest CD, Mechanism, an experimental album combining various playing styles and genres, Sean has also featured his bass guitar, drums and electric guitar playing alongside his original solo acoustic compositions.
"From harmonics to percussive slapping to agile fretboard dancing, this southpaw knows a thing or two about getting the most sound possible out of his guitar. On his three full-length releases on Bandcamp, the self-taught guitarist shows he isn't afraid of taking risks."
Acoustic Guitar Magazine 2014