Sean de Burca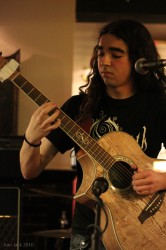 click to enlarge
Sean de Burca started out on a musical journey when he began playing drums in early 2000. Immediately it was clear to him that music was a very important part of life and he aspired to take to the stage as soon as possible. After playing drums for a year, it was apparent that he was very dedicated to playing music and he decided to take on another instrument, the bass guitar. He searched around for bands to join, but had no luck until early 2006, when he was discovered by a melodic metal band, who he immediately joined as drummer. The band went on for the next 4 years, performing around the local area. Throughout this period, Sean was invited to join many local bands, as well as to fill in for absent drummers and bassists.
It was in late 2006 that Sean decided to start playing guitar. This sudden attraction to guitar was because of the aspiration to write his own music. Within a few weeks of buying his first electric guitar, he had composed a number of melodic metal songs including various acoustic interludes. Gradually the metal aspect was completely dropped from his music, leaving only the acoustic side. Not long after this, Sean discovered acoustic fingerstyle musicians such as John Butler, Craig D'Andrea, Andy McKee and Antoine Dufour. Sean was instantly fascinated by this kind of music and set out to learn the songs of these musicians. In July 2009, after only a few months of practicing the songs of Butler and Dufour, Sean started to write his own fingerstyle compositions.
By September 2009, Sean had written a ton of original pieces, including the now crowd-popular composition, The Lake House. In March 2010, Sean took to the stage as a solo musician for the first time and received a great reaction. During August 2010, Sean's six track solo E.P, Summer Storms, was placed on the Unsigned shelf in the Tunbridge Wells Ape Store. To add to this success, he was then discovered by his main inspiration, Craig D'Andrea from the United States, and was given the opportunity to perform his original compositions, and receive the opinions of his music from his main guitar hero.
In just over a year of playing fingerstyle acoustic guitar, Sean has developed his own style. Varying from charging, groove-driven compositions, to mellow and melodic pieces. Apart from fingerstyle artists, Sean is inspired by rock/metal bands such as Kansas, Black Stone Cherry and Opeth, folk-influenced bands like The Pogues and Gaelic Storm, and many other genres, like post-rock, jazz, funk and country.
It is hard to pin-point the genre of this music, but it could be best described as Modern Fingerstyle Acoustic Guitar.
Sean says:
"Hey! My name is Sean and I am a 19 year old guitarist/composer. I play a range of instruments in various bands, however Acoustic Guitar has become my main instrument, writing in a fingerpicking instrumental style.
I take inspiration mainly from musicians such as Craig D'Andrea, Antoine Dufour, Andy Mckee, Don Ross and Jimmy Wahlsteen.
I enjoy listening to their compositions, especially to hear how they are written and performed, in order to increase my own knowledge of composition and fingerpicking.
However, my aim is to write original pieces, often catchy and evocative, just something new...
It is fair to say that I am completely in love with fingerstyle acoustic guitar. I play constantly and never seem to get enough."
Last played:
The Grey Lady Music Lounge, Wednesday 13th February 2013
Harley, Sean de Burca, Dylan Brown, Logan Wilson