The Grey Lady Music Lounge, Tuesday 3rd June 2014

click to enlarge
Currently in the middle of recording his 3rd studio album, 2015 has seen Dan debut new material from his forthcoming album at one of Holland's biggest festivals "Concert At Sea" alongside the likes of Lenny Kravits, Counting Crows and Dutch legends BLØF. His own events "Folking In The Strawberries" selling out fast with up to 1000 attendees attending 5 weekly events at his residency at a Kent Strawberry farm.
Dan's previous album campaign saw him play a support to a sold out Albert Hall gain support from Radio 2 and an extended session for Bob Harris. He also gained support from Tim Minchin who invited Dan to accompany him as a special guest on numerous stages and TV/Radio appearances. Additionally Dan's recent appearance to a full to capacity stage at Glastonbury sits well with an ever-growing tick list for Dan.
With new material in the pipeline be sure to catch him live with a brand new set of songs already gaining attention and recognition as his best material to date.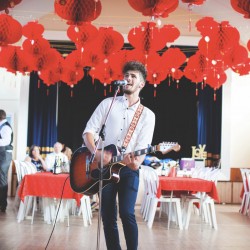 click to enlarge
Hannigan is a 20 year old singer-songwriter from Kent, who has been playing as a solo artist for about 4 years now. He has been involved in a wide variety of projects in the past which has lead him to an alternative acoustic sound with drops of inspiration from everywhere. Although he has been influenced by many artists Hannigan draws heavily from the songwriter "Passenger" for lyrical content creating meaningful songs that everybody can relate too.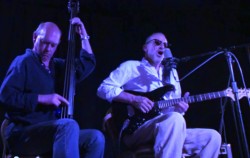 click to enlarge
Bohemia Road – David Lofts & Nigel Ross-Scott
With influences as diverse as John Martyn, James Taylor and Everything But The Girl, Bohemia Road deliver a warm, mellow vibe as a platform for the duo's thought provoking writing.
David's intricate & hypnotic acoustic guitar style is perfectly complimented by Nigel's elegant and sometimes jaw-dropping performance on upright bass, while David's freestyle vocal delivery can take a song from a whisper to a roar and back again.
The pair have been playing together for eight years and between them they've racked up an impressive list of artists they have worked with, including John Martyn, Phil Collins, Steve Harley, Re-Flex, Dexys Midnight Runners and Todd Rundgren.
This appearance at the Grey Lady will be the duo's 'Return' performance after an absence of almost two years and should be well worth catching.
David & Nigel can also be found performing in the same duo format under the name 'Mostly Martyn'.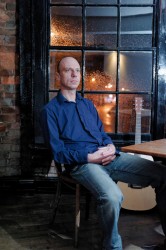 click to enlarge
After writing and performing as a lead guitarist in some popular local acts such as Kail and Cyrano for the past 20 years, Karl decided to concentrate on honing his own songwriting skills.
Drawing on influences such as Nick Drake,Pearl Jam and Nick Cave,Karls style could be described as confessional,melancholic and melodic.
Karl is currently working on his first EP, and after a succesful recent gig at the Tunbridge Wells Forum, is hoping to continue performing in 2014.