Karl Barton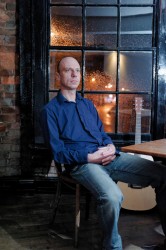 click to enlarge
After writing and performing as a lead guitarist in some popular local acts such as Kail and Cyrano for the past 20 years, Karl decided to concentrate on honing his own songwriting skills.
Drawing on influences such as Nick Drake,Pearl Jam and Nick Cave,Karls style could be described as confessional,melancholic and melodic.
Karl is currently working on his first EP, and after a succesful recent gig at the Tunbridge Wells Forum, is hoping to continue performing in 2014.
Last played:
The Grey Lady Music Lounge, Wednesday 21st October 2015
All The Above, Karl Barton, Wheels