Bohemia Road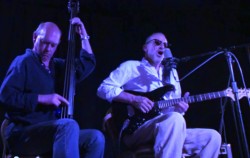 click to enlarge
Bohemia Road – David Lofts & Nigel Ross-Scott
With influences as diverse as John Martyn, James Taylor and Everything But The Girl, Bohemia Road deliver a warm, mellow vibe as a platform for the duo's thought provoking writing.
David's intricate & hypnotic acoustic guitar style is perfectly complimented by Nigel's elegant and sometimes jaw-dropping performance on upright bass, while David's freestyle vocal delivery can take a song from a whisper to a roar and back again.
The pair have been playing together for eight years and between them they've racked up an impressive list of artists they have worked with, including John Martyn, Phil Collins, Steve Harley, Re-Flex, Dexys Midnight Runners and Todd Rundgren.
This appearance at the Grey Lady will be the duo's 'Return' performance after an absence of almost two years and should be well worth catching.
David & Nigel can also be found performing in the same duo format under the name 'Mostly Martyn'.
Last played:
The Grey Lady Music Lounge, Tuesday 3rd June 2014
Karl Barton, Bohemia Road, Liam Hannigan, Dan Clews