The Grey Lady Music Lounge, Wednesday 28th May 2014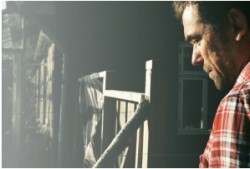 click to enlarge
Quentin Holway, otherwise known as Alfie Noakes for reasons no-one can recall, is a local type who writes songs and then plays them to people.
He was in the Moonshot Blues Band, later called the Moonshots, who did quite a lot of stuff a while back, playing all over the UK and Europe to great acclaim. They stopped and Quentin went solo, playing all over the UK and Europe to great acclaim. He also formed the band Sevenscore, playing all his own songs, and recorded the album Safe and Dry, which has become something of a rarity due to there never being that many copies of it in the first place.
There is talk of a new album, due for release about four years ago, and maybe a T-shirt. His influences include Christopher Hitchens, Neil Sedaka and roast chicken, in that order. If you rolled John Lennon, Paul McCartney, Thom Yorke and Nick Drake into one, you'd end up with a very peculiar looking person.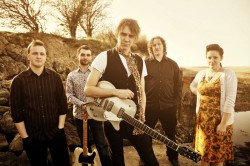 click to enlarge
Ben Jones and The Rifle Volunteers formed in 2011 out of the embers of Kent band, The Lovedays. Ben found himself with a plethora of new songs, but no band with which to execute these new pop nuggets, so went ahead and recorded two solo albums, "Echobox" and "Kaleidoscope". Though rich in arrangements, with no gunslingers to play the songs live with, the head scratching and pacing up and down began. A chance meeting with Jonathan Llewellyn-Hurst changed everything for the better. With a mandate from him to go forth and form a band with him on drums was the catalyst needed to put into place the new outfit.
Completed by Josh Roots on Piano, John Bowles on guitar, Craig Ferguson on bass and Maxine Kerr on second vocal and guitar, The Rifle Volunteers, so named after a pub in Maidstone, are coming to electrify your soul with their own quirky brand of power pop and Rock 'n' Roll. Taking influence from sources as lauded as The Beatles, The Beach Boys and The Who and less obvious as Gilbert O' Sullivan, Weather Report and Bruce Hornsby, The Rifle Volunteers aim to create a musical melting pot to have you tapping your feet and feeling the sentiment.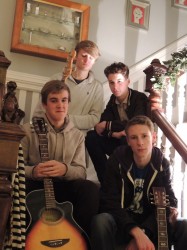 click to enlarge
The Wildlings are a group of 16/17 year olds with Joe Clark on lead vocals and rhythm guitar, Toby Morgan on lead guitar and vocals, Dan Wild on drums and vocals and Henry Tysoe on bass guitar. They formed in 2010 and started out playing school concerts, progressing to fetes and small festivals, and recently playing venues such as the Forum. Since 2010, they have enjoyed covering a wide range of songs from the Foo Fighters to Damien Rice, but more recently have developed a growing body of original material. Songwriting influences vary from the Arctic Monkeys to more acoustic acts such as Passenger.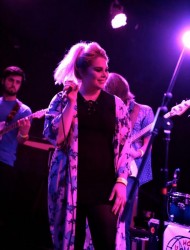 click to enlarge
Rosie Pennie is a 20 year old singer/songwriter. Raised in a musical family she experienced an eclectic melange of musical influences, including jazz, soul and rock, which is now reflected in her songwriting.
Rosie has a unique voice, and her love of a good melody sets her apart from many of her contemporaries.
Fronting her dynamic band she has headlined many iconic venues such as the Hard Rock Café, The Pheasantry and most recently the O2 Academy Islington.
Her distinctive soulful voice and passionate performance serves to define her as an artist who demands to be heard.