The Grey Lady Music Lounge, Wednesday 30th April 2014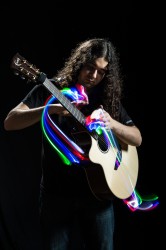 click to enlarge
Sean de Burca is a percussive acoustic guitarist from Kent. By the time he had been playing guitar for just 7 years, he had already been named as one of the top 30 greatest acoustic guitarists under the age of 30 worldwide by Acoustic Guitar Magazine, alongside Ed Sheeran, Newton Faulkner and more. Sean has also been featured as Acoustic Magazine's 'Next Big Thing'. On his latest CD, Mechanism, an experimental album combining various playing styles and genres, Sean has also featured his bass guitar, drums and electric guitar playing alongside his original solo acoustic compositions.
"From harmonics to percussive slapping to agile fretboard dancing, this southpaw knows a thing or two about getting the most sound possible out of his guitar. On his three full-length releases on Bandcamp, the self-taught guitarist shows he isn't afraid of taking risks."
Acoustic Guitar Magazine 2014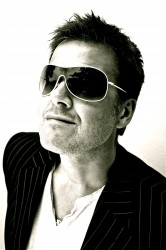 click to enlarge
Liverpool born songwriter Mark Chase was the leader of the notorious 90's band World of Leather, who released 2 albums and 7 EPs through Sony. They toured extensively in the UK and Europe and sold respectably in Japan & Scandinavia, whilst skilfully avoiding the UK charts.
Prior to this, Mark had been a successful session musician & session singer, working with numerous artists including Belinda Carlisle, T'Pau, Taylor Dayne and Julian Lennon. He also worked as a commercial session vocalist, recording 'sound-alike' tracks for TV shows and adverts.
After seeing Beck perform a solo gig a few years ago, Mark altered his approach to music, favouring the 'stripped down' acoustic style of Neil Young, Damien Rice and Rickie Lee Jones. He continues to perform live regularly, both with his band and as a solo performer. Four of his songs have been used in movie soundtracks.
In tandem with his music career, Mark has also been a TV Presenter on a variety of shows, including; The Survivors Guide, Sextalk (both C4), Breakfast Time, Going Live! (BBC1), Wideangle, Country File (ITV) and Toyah & Chase (VH-1).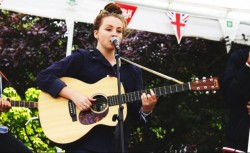 click to enlarge
Jessica Simpson is a 14 year old singer/songwriter. Since the age of 9 she has played guitar which now accompanies her voice. She is an experienced performer having performed at venues such as The Royal Albert Hall and The London Palladium. Jessica is happy to play anywhere, for anyone; her main aim is to share her talent and love for music. As well as the bigger gigs she does smaller ones too. This could be for charity events, at cafes/restaurants or family gatherings such as weddings or parties. When Jessica was 12 she did her first gig which was a two hour set on the back of a lorry; since then she has always been busy doing something to do with music whether it be performing, writing or recording.
As well as covers Jessica has a strong set of originals where she draws influence from her every day experiences when writing and singing. All her songs have their own unique sound and vary in style. Jessica writes in a few styles: Country, Folk, Pop and Jazz. Sam Smith, Bastille, The 1975 and quite a few artists who aren't quite as mainstream, such as The Wayward Daughters, Etta Bond and Tori Kelly inspire Jessica as she appreciates the rawness of their music. However she is mostly self-influenced as she pushes herself to do her best.
The members of the newly formed, 4 piece band from the Tunbridge Wells area first got to know each other in the back of a bus traveling through southern Italy. Upon returning to the UK they formed Eden originally as a cover band but now focusing on their own original material. Since then they recorded and will shortly be releasing their first E.P, which demonstrates the bands energy and their willingness to explore different styles of music, ranging from rock to blues. Now, with an ever growing following and a passion for live performances Eden are working on their full album which is set to be ready for release this summer.