The Grey Lady Music Lounge, Tuesday 15th October 2013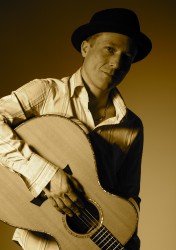 click to enlarge
Independent artist Danny Kyle possesses some incredibly well-honed guitar skills; whether it's his favoured blues or indeed any other genre, his subtle and clever playing is always a delight...

"Virtuoso guitar playing.." (Tom Robinson, BBC6 Music, BBC Introducing)

A classically trained musician, Danny fills his time performing, composing and teaching. He has recorded two original albums; "Easy Street" (2004) and "Wood'n'Strings" (2011) and toured extensively with Nicky Moore's Blues Corporation, appearing on their cd "Hog on a Log" (2007). Respected by his peers, he performed at the Registry of Guitar Tutors annual conference (2011) and has studied American Roots & Blues Guitar with guitar maestro Mike Dowling in Wyoming, USA.
Danny favours the acoustic approach of bottleneck-slide, acoustic steel-string and resonator guitars. His songwriting is a unique combination of the old and the new; tradition and inspiration. With a hat full of old-world sensibility and well-crafted tunes, his style is at once highly melodic, rhythmic and engaging. Add to this some haunting renditions of the traditional blues greats (Robert Johnson, Leadbelly, Skip James, Blind Willie McTell), some travelling songs, spiritual songs, instrumentals, ballads, not forgetting some red hot finger-picking and... well, you're starting to get the idea...
Danny has jut released his third solo album, "Rag'n'Bone Blues" and also an exciting new acoustic project with the powerhouse voice of Nicky Moore entitled "The Whale & The Wa'ah".
If you enjoy authentic blues and great guitar playing then you must catch him performing live...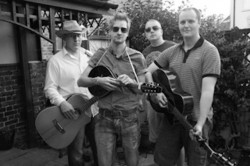 click to enlarge
It's now five years since Drifting Embers formed - at the tail-end of the seemingly never-ending winter of 2011. Their line-up has now settled, and Drifting Embers continue to create music that warms the soul through genuine song craft and beguiling harmonies.
Nick Faulkner's rich, heartfelt lead vocal is accompanied by Richard Scott's expressive guitar playing, Alex Denny's winding bass lines and Jeff Miles' subtle but driving percussion. All write songs and provide backing vocals - bringing alive gorgeous melodies and harmonisations that are instantly memorable.
With influences across musical boundaries, beyond just folk to rock and soul, Drifting Embers' songs defy easy categorisation but will find many friends among lovers of pure, timeless music.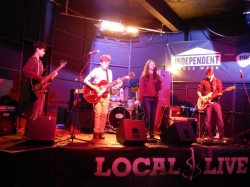 click to enlarge
Chameleon is a five piece band which plays its own material as well as putting its own twist on established classics from a range of great artists. Singer Jenni's warm soulful voice together with versatile guitarists Ben and Sam create an enticing funk rock feel that is driven by the strong rhythm section of Theo (Drums) and Isaac (Bass). The band has developed its own style, influenced by the likes of Herbie Hancock, Oli Brown, Jimi Hendrix and The Raconteurs.
Chameleon is made up of friends (aged between 12 and 15) and has been gigging locally for a couple of years, playing at The Stag Theatre in Sevenoaks, Sevenoaks Festival, Sevenoaks Jubilee Celebrations and Lullingstone Country Park. The band has also performed at the HMV Institute in Birmingham and Rich Mix in London.
They recorded their first CD (Blackout) a year ago and will shortly be returning to the studio to record more of their own material.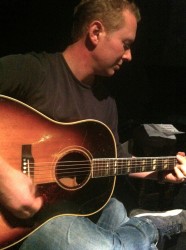 click to enlarge
Tim Hubbard has been in and around the Tunbridge Wells music scene for a number of years, most prominently as bass player in Tipagore and more recently Cyrano. Tim studied at the prestigious Liverpool Institute for Performing Arts (LIPA), turning down the opportunity to study his degree there in order to return to Tunbridge Wells and form Cyrano. Tim very rarely gigs on his own and this one-off show, although conceived with a different motive entirely, is now a bookend to the last few years. Tim will be performing a mix of older and some new material and hopes you will bear with him as he doesn't do this often for a reason!