Danny Kyle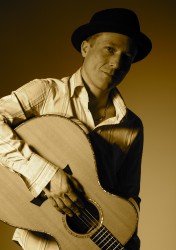 click to enlarge
Independent artist Danny Kyle possesses some incredibly well-honed guitar skills; whether it's his favoured blues or indeed any other genre, his subtle and clever playing is always a delight...

"Virtuoso guitar playing.." (Tom Robinson, BBC6 Music, BBC Introducing)

A classically trained musician, Danny fills his time performing, composing and teaching. He has recorded two original albums; "Easy Street" (2004) and "Wood'n'Strings" (2011) and toured extensively with Nicky Moore's Blues Corporation, appearing on their cd "Hog on a Log" (2007). Respected by his peers, he performed at the Registry of Guitar Tutors annual conference (2011) and has studied American Roots & Blues Guitar with guitar maestro Mike Dowling in Wyoming, USA.
Danny favours the acoustic approach of bottleneck-slide, acoustic steel-string and resonator guitars. His songwriting is a unique combination of the old and the new; tradition and inspiration. With a hat full of old-world sensibility and well-crafted tunes, his style is at once highly melodic, rhythmic and engaging. Add to this some haunting renditions of the traditional blues greats (Robert Johnson, Leadbelly, Skip James, Blind Willie McTell), some travelling songs, spiritual songs, instrumentals, ballads, not forgetting some red hot finger-picking and... well, you're starting to get the idea...
Danny has jut released his third solo album, "Rag'n'Bone Blues" and also an exciting new acoustic project with the powerhouse voice of Nicky Moore entitled "The Whale & The Wa'ah".
If you enjoy authentic blues and great guitar playing then you must catch him performing live...
Last played:
The Grey Lady Music Lounge, Tuesday 15th October 2013
Tim Hubbard, Chameleon, Drifting Embers, Danny Kyle