Drifting Embers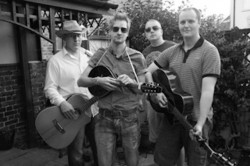 click to enlarge
It's now five years since Drifting Embers formed - at the tail-end of the seemingly never-ending winter of 2011. Their line-up has now settled, and Drifting Embers continue to create music that warms the soul through genuine song craft and beguiling harmonies.
Nick Faulkner's rich, heartfelt lead vocal is accompanied by Richard Scott's expressive guitar playing, Alex Denny's winding bass lines and Jeff Miles' subtle but driving percussion. All write songs and provide backing vocals - bringing alive gorgeous melodies and harmonisations that are instantly memorable.
With influences across musical boundaries, beyond just folk to rock and soul, Drifting Embers' songs defy easy categorisation but will find many friends among lovers of pure, timeless music.
Last played:
The Grey Lady Music Lounge, Tuesday 28th June 2016
Amber Anderton, The Paul Dunton Orchestra, Drifting Embers, The Orange Circus