The Grey Lady Music Lounge, Sunday 2nd June 2013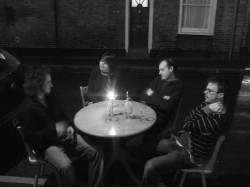 click to enlarge
Laveer, (vrb) - to beat against the wind.
"That's what the dictionary says it means", explains the band, "it's like we see ourselves as sailors, sailing into the wind and riding the waves against all adversity.... that or something like that. Would you like another biscuit?"
Laveer are four tea-spilling musicians who favour acoustic instruments and like playing songs together. Their music has been called, among other things, compelling and melodic. They like to play live and have recorded one album called "Fingermouth" (available cdbaby, amazon, itunes etc). They are working on some new recordings which will be available later in the year.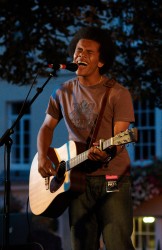 click to enlarge
Until fairly recently Luke sang and played guitar in local band 'Tehillah Commission' who over a six year period performed throughout the South East (and occasionally further afield). Since their final performance in the summer of 2009 Luke has taken time working on new material, collaborating with a number of local artists and also writing songs to perform as a solo artist. Drawing from extremely diverse influences (from John Mayer to Usher), Luke sets out to write songs that interrogate the highs and lows of life, often imbedding insightful questions within carefully crafted toe-tapping melodies.
Luke is accompanied by Barnabus Shaw on piano.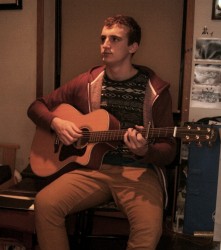 click to enlarge
Seb Pettitt is a young, exciting singer-songwriter based in Sevenoaks.
Drawing on folk influences and inspired by artists such as Laura Marling, Mumford and Sons, Ben Howard and John Martyn, he has been writing songs since he was 14 years old.
These musicians have shaped Seb's mature timbre and style which belie his years. His songs, ripe with haunting melodies and uplifting chord progressions, are delivered with a powerful and resonating voice.
While he mainly writes on and plays the guitar, he also composes and performs on the piano, with echoes of artists such as Elton John, Bruce Hornsby and Marc Cohn.
Seb is an emerging talent with an appeal spanning generations and genres, looking to perform to larger audiences mostly in the Sevenoaks and Tunbridge Wells areas and gain more recognition.
(TBC) Artist