Seb Pettitt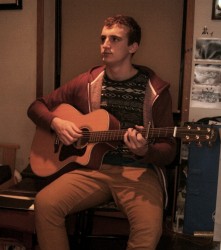 click to enlarge
Seb Pettitt is a young, exciting singer-songwriter based in Sevenoaks.
Drawing on folk influences and inspired by artists such as Laura Marling, Mumford and Sons, Ben Howard and John Martyn, he has been writing songs since he was 14 years old.
These musicians have shaped Seb's mature timbre and style which belie his years. His songs, ripe with haunting melodies and uplifting chord progressions, are delivered with a powerful and resonating voice.
While he mainly writes on and plays the guitar, he also composes and performs on the piano, with echoes of artists such as Elton John, Bruce Hornsby and Marc Cohn.
Seb is an emerging talent with an appeal spanning generations and genres, looking to perform to larger audiences mostly in the Sevenoaks and Tunbridge Wells areas and gain more recognition.
Last played:
The Grey Lady Music Lounge, Sunday 8th September 2013
Georgia Lee, Louis Nevison, Seb Pettitt (full band), Artist (TBC)