The Grey Lady Music Lounge, Wednesday 15th May 2013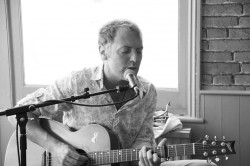 click to enlarge
Local singer/songwriter; Logan Wilson's recently released album entitled 'Geography' is described by Andy Gunton of Hastings Rock as "one of the best locally-produced albums I've ever heard", praising its "high level of musicianship". Geography harks back to the carefree days of summer, though in no way shies away from the darker side of life. Born in South Africa and currently living in East Sussex, Logan is actively giging up and down the country with his band comprised of Steve Hope (keys), Simon Shaw (guitar/vocals), Sacha Trochet (percussion/vocals) and Matt Novis (bass guitar/vocals) at numerous prominent venues and festivals. Logan continues to enjoy regular airplay and live sessions on BBC Radio 2 on both the Janice Long and Terry Wogan shows and is on the cusp of signing to a major label. Influences include Paul Simon & Neil Finn.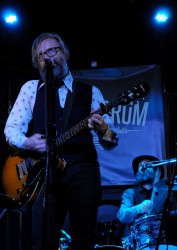 click to enlarge
The Naming Of Things sing heartfelt songs of love and loss. Based around the songs of Andrew Lennox, coupled with the sinuous bass-lines of Jim Carrigan, the Tunbridge Wells-based band return after something of a hiatus. After a year that included the release of an eponymous EP, swiftly followed by a change of line-up, a series of personal tragedies has meant the songs have taken a darker, more reflective turn. The new material explores the fringes of folk and Americana (or should that be Canadiana - Lennox is half Canadian) and is influenced by the lyricism of Dylan, Cohen and Waits. The recent addition of Kate Genery, James Cox and Alex Metcalfe to the line-up has taken the band into new and exciting sonic territory. The band will be returning to the studio to record a new E.P. in the autumn.
Expect wistful melodies accompanied by an eclectic array of instruments including banjo, omnichord, glockenspiel, trumpet and accordion.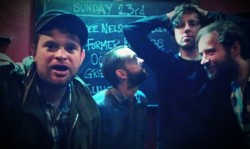 click to enlarge
Large Cardinals is increasingly being described as Alex Metcalfe plus anyone who can bear to be in the same room as him long enough to get through a set.
It's pretty much down to family members now, with brother James and sister Nim joining on lead guitar and backing vocals respectively. Also roped in are James Cox (of Son of Kirk and The Naming of Things etc.) and Richie Gabriel from local favourites, "The Swinging Little Big Band".
Their first single, "She's a spider" is available from iTunes and Bandcamp (see link below). Alex's songs have been heard on the Radcliffe / Maconie show on Radio 2 as well as Radio 6 and Resonance FM, and been described by The Sun as "British songwriting at its best (Four Stars)".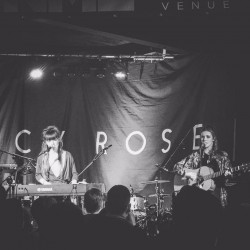 click to enlarge
"I started writing songs when I was about seven and haven't really stopped since then. I have always been interested in music as it goes in the family and have always liked to sing. At the age of about nine, I started having piano lessons locally but I wanted to do more pop music material and so stopped taking the lessons. In primary school I started many bands with friends and was always playing around with song writing. The first time I recorded on my own was a cover I did of Invincible by Tinie Tempah and Kelly Rowland. In early 2011 I wrote my first proper song 'I Cried' and recorded it in my Dad's studio. I then wrote another song called 'This is Your Life' and decided I wanted to carry on with song writing. I then made my own YouTube account just to see if the songs would get any views and luckily enough they did! I wrote about four more before I filmed my first music video last year. I am very influenced by Emeli Sande as her songs are mainly based on her and the piano. I also listen to music like Ellie Goulding and The Kooks- as well as the music in the charts! I have always sung with my sister as our voices are similar and we harmonise together."