Large Cardinals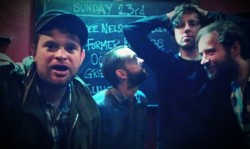 click to enlarge
Large Cardinals is increasingly being described as Alex Metcalfe plus anyone who can bear to be in the same room as him long enough to get through a set.
It's pretty much down to family members now, with brother James and sister Nim joining on lead guitar and backing vocals respectively. Also roped in are James Cox (of Son of Kirk and The Naming of Things etc.) and Richie Gabriel from local favourites, "The Swinging Little Big Band".
Their first single, "She's a spider" is available from iTunes and Bandcamp (see link below). Alex's songs have been heard on the Radcliffe / Maconie show on Radio 2 as well as Radio 6 and Resonance FM, and been described by The Sun as "British songwriting at its best (Four Stars)".
http://largecardinals.bandcamp.com/
Last played:
The Grey Lady Music Lounge, Wednesday 15th May 2013
Lily Denning, Large Cardinals, The Naming of Things, The Logan Wilson Band