Pizza Express Maidstone, Thursday 18th April 2013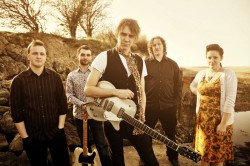 click to enlarge
Ben Jones and The Rifle Volunteers formed in 2011 out of the embers of Kent band, The Lovedays. Ben found himself with a plethora of new songs, but no band with which to execute these new pop nuggets, so went ahead and recorded two solo albums, "Echobox" and "Kaleidoscope". Though rich in arrangements, with no gunslingers to play the songs live with, the head scratching and pacing up and down began. A chance meeting with Jonathan Llewellyn-Hurst changed everything for the better. With a mandate from him to go forth and form a band with him on drums was the catalyst needed to put into place the new outfit.
Completed by Josh Roots on Piano, John Bowles on guitar, Craig Ferguson on bass and Maxine Kerr on second vocal and guitar, The Rifle Volunteers, so named after a pub in Maidstone, are coming to electrify your soul with their own quirky brand of power pop and Rock 'n' Roll. Taking influence from sources as lauded as The Beatles, The Beach Boys and The Who and less obvious as Gilbert O' Sullivan, Weather Report and Bruce Hornsby, The Rifle Volunteers aim to create a musical melting pot to have you tapping your feet and feeling the sentiment.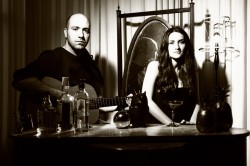 click to enlarge
It is a year now since Cyrano's Joe Ackerley teamed up with his sister Alice to form 'The Ackerleys' as a side line - turned major project! Already they have a fast-growing repertoire of folk/pop tunes, some light and uplifting, some moody and soulful, but all featuring close harmony, strong chord structure and catchy melody. Joe employs his prodigious song writing skills and his own rich baritone to complement and showcase Alice's striking voice. Joe's roots are in rock music as is well known to many of on the TW music scene, his deep seated influences an unusual mix of Pearl Jam/ Radiohead/ Elbow/Crowded House/Jeff Buckley. His sister Alice, just turned 17, provides a more contemporary vibe – Laura Marling, The Staves, Florence and the Machine, Emmy the Great, Marina & the Diamonds. The result is delightfully different - but judge for yourself. The dynamic duo has now added lead guitar and drums in the form of Steve McCormack, and Matt Wilson.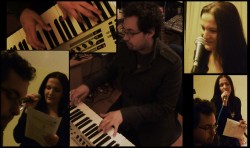 click to enlarge
Performing tonight is Francesca Vella (lead vocals & lyrics) accompanied by Alasdair Murden on the piano.
The set will include songs that have been co-written by Alasdair, guitarist Andy Vickery and pianist Alex Metcalfe.
If you like what you hear, please look up The Echo Three on Facebook and Like our page... Our album should be available by the Summer!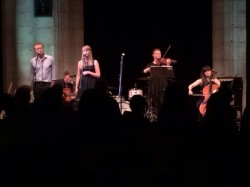 click to enlarge
Singer-songwriter, Paul Dunton leads his own unique cross-over orchestra providing an atmospheric fusion of alternative and pop with a classical twist. Paul & his Orchestra take influences from varying modern day artists such as Pink Floyd, Elbow, ELO, Turin Brakes, Massive Attack, Damien Rice and contemporary composers such as Samuel Barber, Ludovico Einaudi, John Barry and Hans Zimmerman. The Orchestra performs Paul's own compositions and a varied selection of uniquely arranged standards from a wide range of artists. The line-up of 8 violins, 4 cellos, guitar, flute, bass and percussion accompanies Paul on vocals and piano, joined by his lead vocalists, Charlotte Andrew and Poppy Raine. Paul and his Orchestra regularly perform at concerts, festivals and private events throughout the UK and internationally, including headlining the Theatrium Wilhelmstraße Festival in Wiesbaden, Germany and an 8 state tour of the USA which culminated in a spectacular roof-top performance on top of the New York Strand Hotel. Increased attention and success led to the orchestra being featured on BBC Radio 2 by Joan Armatrading with interviews and airplay of one of Paul's songs, 'Don't Forget'. This led to Paul supporting Joan Armatrading on five occasions during her recent UK tours.