The Echo Three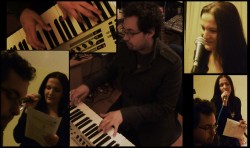 click to enlarge
Performing tonight is Francesca Vella (lead vocals & lyrics) accompanied by Alasdair Murden on the piano.
The set will include songs that have been co-written by Alasdair, guitarist Andy Vickery and pianist Alex Metcalfe.
If you like what you hear, please look up The Echo Three on Facebook and Like our page... Our album should be available by the Summer!
Last played:
Pizza Express Maidstone, Thursday 18th April 2013
The Paul Dunton Ensemble, The Echo Three (featuring Francesca Vella), The Ackerleys, Ben Jones and The Rifle Volunteers