The Grey Lady Music Lounge, Sunday 31st March 2013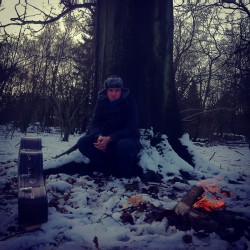 click to enlarge
David began songwriting in 2001 on a trip around the world, with a 6-chord songbook and cheap guitar as his tools and only companions. Alas, the boybands were dead and gone, so he turned instead to the likes of Paul Simon, Bob Dylan and The Beatles to show him the way. In the years since, David has played gigs all over the South-East, establishing himself as a regular at the Grey Lady with his unique blend of acoustic roots, blues and folk music. He released his debut album 'Bonfire Music' in 2013, his EP 'Be Back Soon' in 2014, and his homemade album 'Night Moves' in 2015. You can download all his music online for free!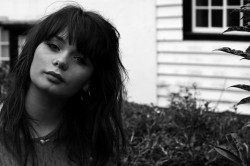 click to enlarge
Holly is a unique artist with a creative mind. Classically trained on piano and voice and being self-taught on guitar she has been described as a mature focused musician with an aptitude for writing songs that capture the imagination. Holly has experience in playing at many events and was awarded the sponsor Gift Daze's prize at age 16 when she performed at a Tonbridge Talent Show Competition with the song she wrote "Through the Dark". One of the judges wrote later that "Holly has a lovely rich, slightly gravelly voice which is quite unique". She has experience in bands such as the trio harmony group The Hers with Shame About the Name and hopes to join and create more groups in the future. She has a wide range of influences with a foundation including Coldplay, Kings of Leon, Adele, Eva Cassidy, Amy Winehouse and Alicia Keys however more recently her musical development has led her into the world of jazz. She is now heavily inspired by classic soul jazz singers such as Etta James, Aretha Franklin, Sarah Vaughn, Nina Simone and Ella Fitzgerald which is evident in her song writing. Studying Music at The University of Bristol she hopes to broaden her musical repertoire and find her niche to begin her musical career.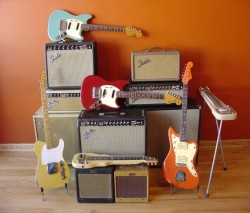 click to enlarge
THE DUKES OF KENT are Markus Holler & Chris Gussman. They have played music together since 1984. The have just released an album, on vinyl only ( ok.... and dowloads!) entitled "WELCOME TO THE OAST HOUSE". Markus runs vinyl label and rare record emporium SUGARBUSH RECORDS (www.sugarbushrecords.com) and Chris owns analogue recording studio THE SONIC BUNKER in Crowborough. They play as a duo although they are hoping to expand to a fuller line-up this year in order to promote the album. They will be back in the studio this year to record their next LP.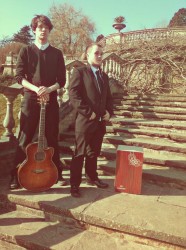 click to enlarge
Fighting for Alpha are a hard hitting acoustic duo from Tunbridge Wells. Members Tomas Clarke (Lead Vocals and Acoustic Guitar) and Richard Thomas (Backing Vocals and Cajon) met at college where they studied music. When nearing the end of their final year they began talks about creating their own band. Different ideas were thrown around but in the late summer of 2012 the act was created.
Fighting for Alpha's style is a mix of indie, rock and pop with influences from the likes of Bon Iver, Laura Marling, The Rolling Stones and the Hives all wrapped up as a highly original two-man band.
Although Fighting for Alpha are acoustic and have some slow, emotive songs, do not think that this is what defines them. For the most part they like to work up the crowd with high energy, beat-driven anthems with catchy lyrics and melodies to send any onlooker home with a tune in their head and a smile on their face.