Fighting For Alpha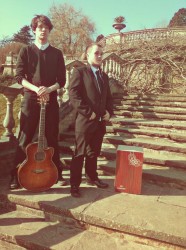 click to enlarge
Fighting for Alpha are a hard hitting acoustic duo from Tunbridge Wells. Members Tomas Clarke (Lead Vocals and Acoustic Guitar) and Richard Thomas (Backing Vocals and Cajon) met at college where they studied music. When nearing the end of their final year they began talks about creating their own band. Different ideas were thrown around but in the late summer of 2012 the act was created.
Fighting for Alpha's style is a mix of indie, rock and pop with influences from the likes of Bon Iver, Laura Marling, The Rolling Stones and the Hives all wrapped up as a highly original two-man band.
Although Fighting for Alpha are acoustic and have some slow, emotive songs, do not think that this is what defines them. For the most part they like to work up the crowd with high energy, beat-driven anthems with catchy lyrics and melodies to send any onlooker home with a tune in their head and a smile on their face.
Last played:
The Grey Lady Music Lounge, Sunday 17th November 2013
Artist (TBC), Poppy Hopson, Fighting For Alpha, Wheels