The Pheasantry, Pizza Express, Thursday 21st March 2013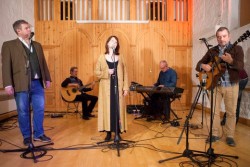 click to enlarge
ARCELIA - Soulful folk from the valleys of Kent

"Wonderfully warm harmonies".... MOJO Magazine
"With this kind of talent on display expectations are high,and they are resoundingly met on each track." ★★★★★ R'n'R Magazine
"Here is songwriting and singing of the very highest order.." 9/10 Americana UK
"Owes so much to the likes of Crosby,Stills & Nash with their dreamy acoustic meanderings, contrast of the individual voices and combination of well matched harmonies." Louder Than War
"Trailblazing a new genre"… Classic Rock Society
Arcelia's critically acclaimed new album, Building On The Land, is out now on How Now Records.
Arcelia (pronounced Ah-KELL-ia – meaning 'treasure chest' in old Spanish) are songwriter Gavin Alexander (has supported the likes of Mark Nevin, co -wrote the theme tune to Studio Ghibli's Emmy award winning TV series, Ronja the Robber's Daughter), voice artist Teresa Gallagher (Octonauts, Thunderbirds, Thomas & Friends) and Flying Picket Simon Foster. Together they create an exquisite sound which has been likened to Crosby Stills & Nash, America, Paul Simon and Squeeze (they regularly perform and tour with Chris Difford). They have also been in demand as a support act for the likes of Scott Matthews, Oysterband, Coope Boyes and Simpson, Michele Stodart and Maddy Prior.
For their new album Building on the Land' the band continues to evolve into an exceptional songwriting and performing unit, further exploring stunning songs of everyday life and loves.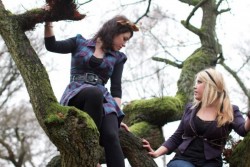 click to enlarge
DoD are currently on their UK tour with the release of their debut album 'To The Water', taking to the road for the year ahead; having already spent the last 15 months at it, they are set to play even more major city and towns across the country. The sisters have been passionate about their music and playing together from a young age. Their drive to pursue music has led to them quitting their jobs, selling their cars and investing everything they have to take to the road in a tour van. Living off of economy porridge and 17p soup, and busking their petrol money to get to the next town. The band consists of the two sisters, Adrienne and Fern Davis, who write music with an acoustic folk/soul vibe. Adrienne plays acoustic guitar with vocals that are "gritty and soulful" and Fern incorporates percussion and provides a vocal performance reminiscent of 60's soul, but with a clear and powerful, new folk twist.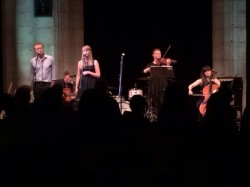 click to enlarge
Singer-songwriter, Paul Dunton leads his own unique cross-over orchestra providing an atmospheric fusion of alternative and pop with a classical twist. Paul & his Orchestra take influences from varying modern day artists such as Pink Floyd, Elbow, ELO, Turin Brakes, Massive Attack, Damien Rice and contemporary composers such as Samuel Barber, Ludovico Einaudi, John Barry and Hans Zimmerman. The Orchestra performs Paul's own compositions and a varied selection of uniquely arranged standards from a wide range of artists. The line-up of 8 violins, 4 cellos, guitar, flute, bass and percussion accompanies Paul on vocals and piano, joined by his lead vocalists, Charlotte Andrew and Poppy Raine. Paul and his Orchestra regularly perform at concerts, festivals and private events throughout the UK and internationally, including headlining the Theatrium Wilhelmstraße Festival in Wiesbaden, Germany and an 8 state tour of the USA which culminated in a spectacular roof-top performance on top of the New York Strand Hotel. Increased attention and success led to the orchestra being featured on BBC Radio 2 by Joan Armatrading with interviews and airplay of one of Paul's songs, 'Don't Forget'. This led to Paul supporting Joan Armatrading on five occasions during her recent UK tours.